HP Slate & Sex and the City 2 are Confusing People
Yesterday a friend told me that she and her friends thought it was really cool that the Sex and the City girls were going to be using iPads in Sex and the City 2. . She told me to keep an eye out for the Sex and the City 2 ads that showed Sarah Jessica Parker using an iPad. I told her that couldn't be accurate because HP's the movie's tech sponsor. She insisted that the iPad was going to be in the upcoming chick flick.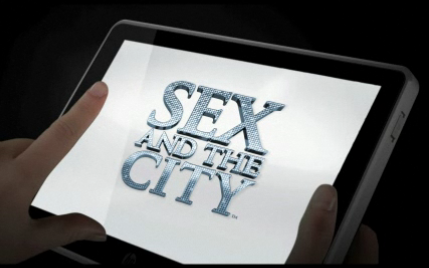 Well, sure enough I saw the HP & Sex and the City 2 ad on TV last night. In a flash I understood where my friend's confusion was coming from. In the  TV commercial, which you can view here, Sarah Jessica Parker does interact with slate devices, but they're not iPads and they're not HP tablets. Instead they're some mythical computer-generated device that's not for sale and can easily be mistaken for an iPad. In another promo (screen grab above), they do briefly show the HP Hurricane and I can completely understand why most people would think it's an iPad.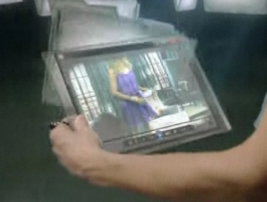 I imagine that HP would've liked to have its real slate ready in time for the Sex and The City 2 premier, but then they had to go and buy Palm and figure out how to get WebOS running on it. Average consumers, who HP's presumably trying to reach with these ads, don't know anything about the HP Slate or that it's going to be released as the Hurricane. Instead, they assume that the actress who used Mac notebooks throughout the TV series is using Apple's latest product…and HP doesn't mind giving its competitor some free advertising.
Of course nothing on the market looks more like the HP Hurricane than the iPad, so it's no surprise that fans will spot "iPads" in other pieces of HP/Sex and the City 2 promo material.
This is a lost opportunity for HP to promote its current Tablet PCs and/or the Hurricane.  Since the Hurrican isn't ready, HP can't slap a tagline on the end of the commercial or explain what it's all about. Instead, there's a promo for HP's latest notebooks.
There are going to be millions of confused potential PC customers that are decidedly less tech savvy and more fashionable than those of us here at GBM.
If any of you end up seeing this movie, please drop us a line and let me know if the Hurricane gets a cameo.

As an Amazon Associate I earn from qualifying purchases.