HP Slatebook 14 Review: Android on a Notebook Disappionts
The idea of running Android on a Notebook computer seems enticing. But in the case of the HP Slatebook 14, it turns out to be disappointing. HP took their popular HP Chromebook 14 hardware and jazzed it up with a cool new black and schoolbus-yellow paint scheme, better Beats Audio speakers and a higher resolution 1920×1080 full HD screen. Then they crippled the machine by slapping the ancient Android 4.3 Jelly Bean operating system on it and failed to give it enough storage or memory to satisfy the kind of power Android users that will likely want such a laptop. The result will disappoint most buyers.
The moment HP announced this interesting machine, it seemed intriguing. I really looked forward to getting one.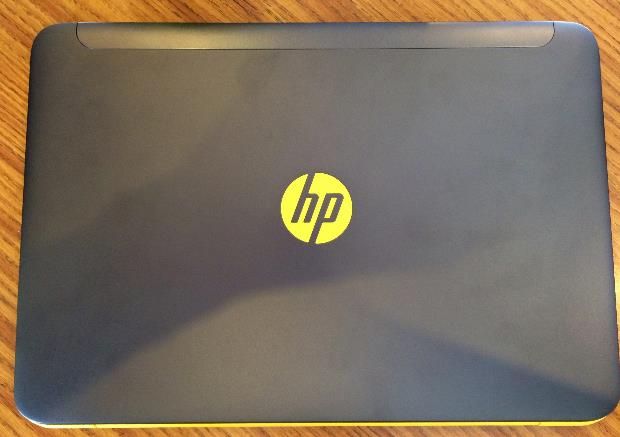 To provide context, my family uses three Chromebooks including the HP Chromebook 14. HP introduced this excellent Chromebook almost a year ago, but the machine still beats out most newer Chromebooks, except possibly the new Acer Chromebook 13, thanks to the HP's great keyboard, nice size, design construction and great battery life.
My family also uses a few Android phones, which means the HP Slatebook 14 would likely fit this household as well as it would in any. The Android notebook offers compelling features for an Android user, like:
The ability to run Android apps, which usually do more than most ChromeOS webapps
Nice low-cost hardware
Screen improvement over the excellent HP Chromebook 14
Same great features from the HP Chromebook 14 like keyboard, touchpad and design
While it seemed alluring, the device doesn't measure up to these high expectations. See the reasons why in this video review comparing it with the HP Chromebook 14.
Excellent Hardware Design on the HP Slatebook 14
The HP Slatebook 14 comes in a great package. It sports an attractive black and yellow paint scheme. It's a bit of a fingerprint magnet, but that's minor. The chassis looks good and feels sturdy, just like the HP Chromebook 14. Some might call it heavy at around four pounds, but that's not bad for a mid-sized ultra-portable.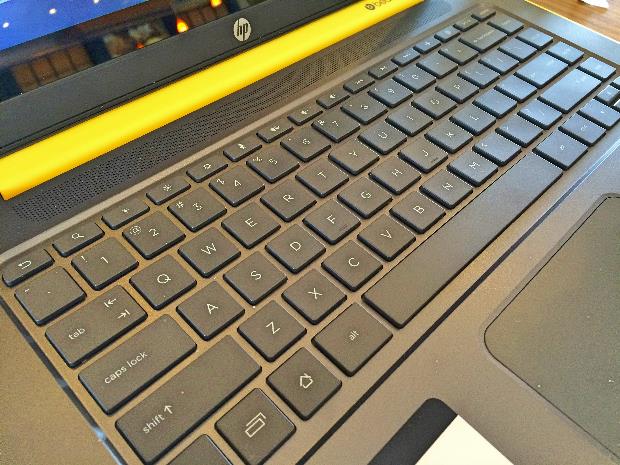 The Slatebook 14 feels great while typing, due to a well spaced responsive keyboard. There's a row of useful shortcuts in place of the normal function keys that we find across the top of most typical keyboards. HP also included a spacious touchpad. Out of the box it's a bit sensitive, but users can turn sensitivity down to match their tastes. The touchpad doesn't click as nicely as the Chromebook 14 but still works well, for a touchpad.
The 1080p touchscreen looks crisp, colorful and responded well to my touch and swiping gestures. Compared to nearly every other Chromebook, this display looks awesome. Using a 14-inch screen means there's plenty breathing room for apps. It's too reflective in bright or even medium light. Adjusting the screen's angle fixes this most of the time, but might make it uncomfortable to use.
The computer comes with a decent complement of ports including:
1 HDMI output
micro-SD card slot instead of a full SD-card slot
1 USB 3.0 and 2 USB 2.0 ports
Stereo headphone and mic combo jack
Charging connector

Running Android on the HP Slatebook 14 Doesn't Quite Work
Why would HP install Android 4.3 Jelly Bean instead of putting Kitkat, the most recent version of Android, on this machine? This decision means the newly updated Chromecast app won't cast the entire screen to the Chromecast HDMI dongle. This will frustrate business users who will want to mirror the screen for presentations. They're stuck using the HDMI output or a USB to VGA adapter. Unless this machine sells well, don't expect an update soon. Maybe they will skip Kitkat and jump directly to Android L, but don't plan for it.
Android Jelly Bean came with a few Wi-Fi inconsistencies, which caused a lot of stalls and slowdowns with apps that rely on a solid Internet connection. One app I use downloads content from the Internet one file at a time. It kept giving me an error saying the app wasn't responding. Tapping "Wait" worked most of the time, but a solid Wi-Fi connection won't behave this way. Go into Settings and turn off the setting that limits power usage on Wi-fi to make it better, but still not solid. A group of Google+ users agree that their machines suffered the same problem.
On a Windows PC, MacBook or Chromebook, users can tile a pair of windows on-screen at the same time. The spacious 1080p screen made me want to do this, but Android doesn't include this feature built-in. Some manufacturers like Samsung add the ability to tile windows. The HP Slatebook 14 could use that kind of customization to make it a more productive experience.
A Few HP Slatebook 14 Hardware Weaknesses
We already mentioned the higher resolution of the 1080p screen compared to the Slatebook's Chromebook cousin, but it's not all good. Under medium to bright lighting, the user will need to adjust the screen to see anything. It looks like a mirror, as readers can see in our review video above. This laptop suffers from glare more than almost any other laptop tested.
HP also missed an opportunity to grab buyers' attention by putting the new NVIDIA Tegra K1 processor in this machine and offering a little more RAM. We only get 2GB of RAM, even though most high-end tablets run 3GB. The machine performed alright, but it's not as fast as the HP Chromebook 14 in both benchmarks and real-world usage. The computer boots terribly slowly for a machine running on an SSD.
Price and Value of the HP Slatebook 14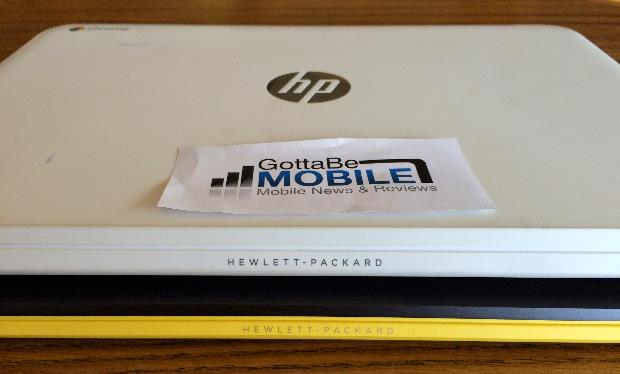 The HP originally priced the Slatebook 14 at $399.99, but HP released it for $429.99. It's hard to recommend this machine at either price.
Buyer should look at the HP Chromebook 14 if they plan to mostly do some productivity work. It costs $80-$100 less on average. We hope HP will release a Chromebook with the same hardware as the Slatebook 14, but with 4GB of RAM and 32GB of storage. ChromeOS enthusiasts would easily pay $450 for that machine and we'd wholeheartedly recommend it to buyers who want a high-end Chromebook.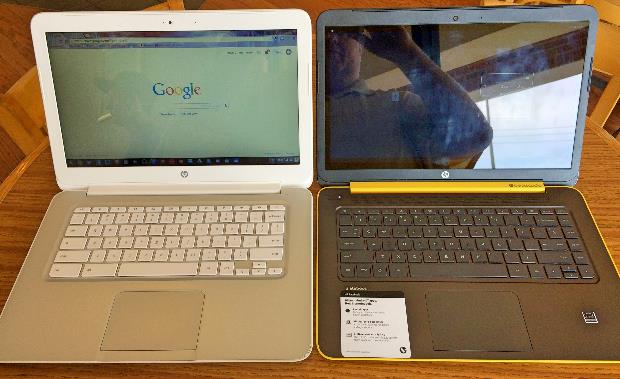 With the announcement that Acer plans to release a new Acer Chromebook 13 with as good a screen, more memory and a lower price, people should consider that option also for a powerful productivity machine that's simple and inexpensive.
What if a buyer wants an Android laptop? There aren't many to pick from. Take a look at the Asus Transformer line. The Transformer Pad TF103C costs $289 on Amazon. It's smaller at only 10-inches. But it also costs over $100 less and still offers a nice 720p screen that runs on Kitkat. It also functions as a standard 10-inch tablet by detaching the included keyboard dock.
Some buyers don't care as much about price. These people should look at the  Samsung Galaxy Note Pro 12.2 with the optional keyboard. It sells for over $700 with the optional keyboard, but comes with Kitkat, a higher resolution screen, great pen input and can handle showing up to four apps on-screen at once. It's not as big as the 14-inch Slatebook. Users who don't care about the pen input can save about $120 and get the Samsung Galaxy Tab Pro 12.2 with keyboard for $600 at Amazon.
Looking at the competition makes us impressed with the price of the HP Slatebook 14, but the older operating system, bad Wi-Fi performance, lack of convertibility into a tablet and no multi-tasking with two apps open at once means most buyers should stay away from the HP Slatebook 14. Fix the Wi-Fi and upgrade it to Kitkat or Android L, and the other problems seem less important and we'd change the recommendation.
To learn about the HP Slatebook 14's full specs look for our upcoming review over at Notebooks.com.