HP Stuns with new Designer HP Spectre x360 and Envy AIO
Windows hardware partner HP is making it pretty hard for anyone to forget about its new design-oriented direction ahead of the holiday shopping season. Today, the company revealed four major products. The HP Envy laptop and HP Spectre x360 are big refreshes of existing products in the company's already attractive portfolio. The HP Envy AIO 27 is just about the best-looking all-in-one PC running Windows that we've seen yet.
The Envy AO 27, HP Envy laptop and HP Spectre are three new PCs that the company hopes will help it dominate the holiday shopping season and beyond. They might do just that. Since a corporate shake up a year ago, the company has focused heavily on offering premium materials, great build quality and top-notch design. If that formula sounds familiar to you, it's because Apple successfully used it to resurrect its Mac notebooks and desktops.
HP is on to something with these new devices.
The $1,159.99 HP Spectre x360 is a refresh of the high-end Windows 10 2-in-1 that the company worked alongside Microsoft to create originally. Its new design aims to make it a more legitimate alternative to a traditional notebook and tablet.
The entire device is still made of metal and dominated by a 13.3-inch display. Special hinges allow users to take that display and flip it onto the backside of the notebook itself. Within seconds, buyers have a powerful laptop or tablet ready to do their bidding.
The body of the device is made of aluminum. The trackpad is glass and the hinges are all chrome. The device weighs just 2.85 pounds, which is what makes it a better tablet alternative than the notebook it replaces. It also measures 13.8 mm from top to bottom. Thinness is a much-prized quality on notebooks that can also be tablets. Battery life is important too. The HP Spectre x360 lasts an astonishing 15 hours between charges.
There are some very wise internal upgrades too. USB Type-C allows for quicker charging and data transfers from smartphones and tablets. The HP Spectre x360 has it. The notebook also has speedy charging technology that allows it to go from completely dead to half a charge in 30 minutes. Another must for any Windows 10 notebook is a Windows Hello-ready camera so that user can log in without a password its present too. This entire notebook is built on Intel's 7th Generation Core processors too. They're the very latest to be released.
The HP Envy 13 is a traditional notebook, but one that's seen some major improvements too. It lasts 14 hours on a single charge. It weighs just 3.31 pounds.
It's been given the all-that-matters hardware upgrade too. Inside is Intel's Core i5 7th generation processor technology. Shoppers get a high-definition display, quick charging technology and USB Type-C port. Its cheapest configuration will cost $849.99, when it launches later this month.
HP caught a couple glances with its last all-in-one PC and the Envy AIO 27 will garner them too. The device looks more like a well-designed high-end television than a PC.
The 27-inch display of the machine is connected to a black bass by a chrome arm.  The base itself holds all the components; inside there's 7th Generation Intel Core I processors and Bang and Olufsen speakers. Shoppers can add an NVIDIA GTX 950M graphics card, but it's optional. The Windows Hello ready camera slides out from the top of the machine.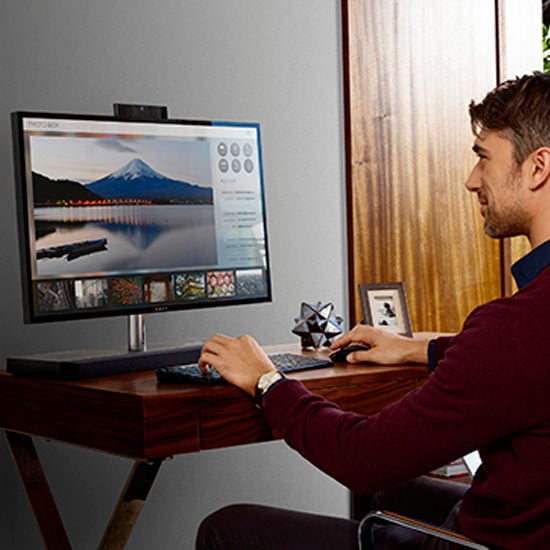 One of the criticisms HP got with its last all-in-one was the input devices it packed in. The new keyboard and mouse are high-end, it seems. A circular indent on the device's base lets users control the volume. A version with a 4K display is coming, but won't be available when the HP Envy AIO 27 arrives online in a few weeks for $1,249.99.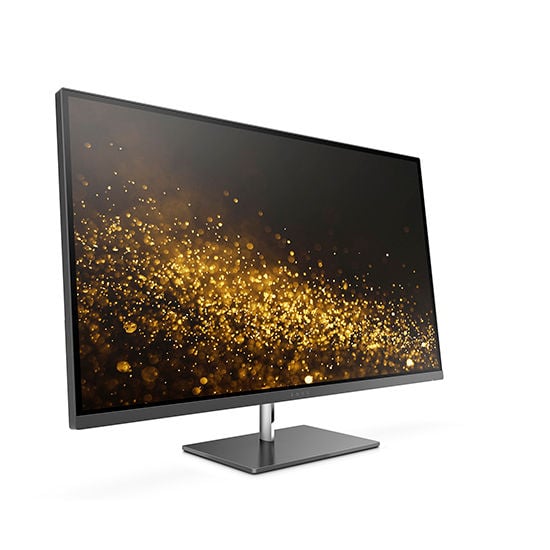 Finally, there's the new HP Envy Display. It already has 4K screen technology. It also boasts 128 degree viewing angles an improved color gamut and USB Type-C support. It won't arrive until December. It'll cost shoppers $499.99

As an Amazon Associate I earn from qualifying purchases.