HP Teasing WebOS Tablet Before Announcement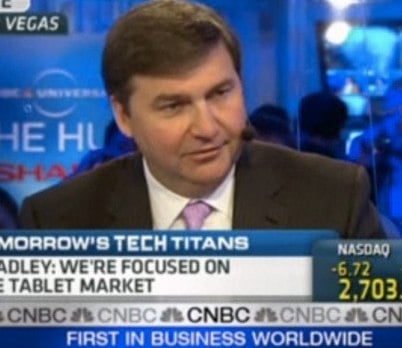 The Tablet/Slate calendar is a full one this spring and everyone wants to wrest some control of it from Apple. HP is doing its share to try and grab a piece of it for its upcoming WebOS announcement that is scheduled for February 9. HP's Todd Bradley was on CNBC talking about what's to come and in some ways he's pretty good about talking without saying anything to keep the interest high.
Keep in mind, that HP decided against unveiling any news on this front at CES 2011, opting instead to create its own hype with its own event. Not a bad move, but it puts the pressure on to deliver. If there's any news to gleam in all the corporate speak, it is that HP sees this as "one piece" of the whole connected experience. Also, HP is trying hard to focus on the content consumption angle in order to keep selling a few of those PCs that it pumps out each year. If you ask me that's becoming a tired old saw that needs to get retired from the PR pushers. I'm going back to my iPad here in a few moments to create some content.


As an Amazon Associate I earn from qualifying purchases.