HP TouchPad Displays Start Appearing at Best Buy, Walmart
Prior to the launch of the webOS TouchPad, we're beginning to see HP reserving floor and shelf space for its tablets at retailers. A price sticker was seen at a local Walmart showing that the TouchPad will retail for $599 when it becomes available for sale. At Best Buy, we're seeing a minimalist white display table for the tablet with HP logo on the front.
Though HP still hasn't announced a release date for the tablet, prior leaks indicate that the company's first webOS tablet will be coming June in WiFi form to select retailers. The TouchPad will also be coming with mobile broadband in July, according to that leak.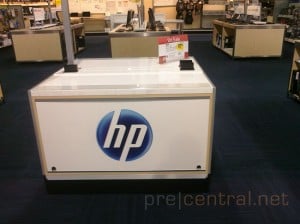 At least with the separate display presence at Best Buy stores, the TouchPad will be able to stand apart from other tablets, mainly those running the Android operating system. The retailer already places the Apple iPad tablets separately from Android tablets in the Apple section of the store.
The tablet's previous rumored pricing was for around $600 for the 32 GB WiFi-only version.
The TouchPad will be entering a crowded tablet space, and it's unclear if HP will release a cheaper variant of the TouchPad with less storage capacity to be more competitive in price with other Android tablets. Samsung's Galaxy Tab 10.1 retails for $500 with just 16 GB of storage and WiFi-only. The PlayBook, made by Research in Motion, also comes in at that price, but the PlayBook has a smaller 7-inch display. The HTC Flyer, which is available with a 7-inch display and has an optional digitizer pen, is expandable with a micro SDHC card, and also retails for $500 in the U.S. Lower costs alternatives, such as the Asus Eee Pad Transformer, costs just $400 and is a dual-core tablet with a 10-inch display.
Via: Pre Central and Engadget

As an Amazon Associate I earn from qualifying purchases.