HP TouchPad Gets Affordable $100 Discount This Weekend Only
This weekend–and this weekend only–if buy the webOS-enabled HP TouchPad direct from HP, you will get a $100 discount on the slate. Between August 5th through Augsust 7th, the base 16 GB WiFi-only 10-inch TouchPad will now cost $399, or $100 less than the base price for Apple's comparable 16 GB WiFi-only iPad 2. In addition to the $100 discount off the 16 GB TouchPad,the 32 GB TouchPad will also see a similar $100 price drop this weekend.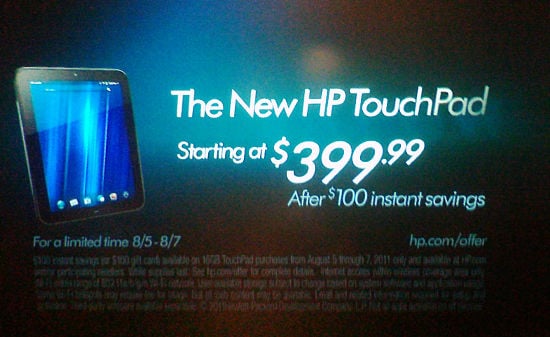 At this point, it's unclear if HP is dropping the price to move inventory in preparation in launching slightly refreshed models, or if the TouchPad sales have been relatively flat. The competitive consumer tablet market is currently being dominated by the Apple iPad, and contenders releasing Android or BlackBerry tablets in the past haven't done nearly as well as anticipated.
In addition, lukewarm reviews of the tablet haven't sparked nearly as much excitement as HP had hoed for. The TouchPad had recently received a webOS update that rectifies many of the early software problems that were note in some early reviews.
Via: PreCentral

As an Amazon Associate I earn from qualifying purchases.