HP TouchPad Officially Unveiled
HP has at long last announced a slate device with a mobile operating system. The Palm TouchPad is the WebOS slate we've been waiting for and it looks pretty interesting at first glance. The mobile landscape has sure changed a lot since I bought my first Palm Pilot though and I'm not sure if the TouchPad will be able to cut through all of the iOS and Android noise.
At first glance, most consumers will assume that the TouchPad is an iPad. It even has a 9.7 inch capacitive multitouch display with 1024 x 768 pixels. Sound familiar? There will be four configurations – 16GB or 32GB and WiFi only or WiFi plus mobile broadband. the WiFi only version will launch first this summer and the mobile network enabled ones will launch later in the year.
At the heart of the HP TouchPad is webOS, which was developed by Palm for the Pre.  If you're a Pre fan, you'll probably like the TouchPad. You get the same sort of multi-tasking capabilities and the same productivity tools.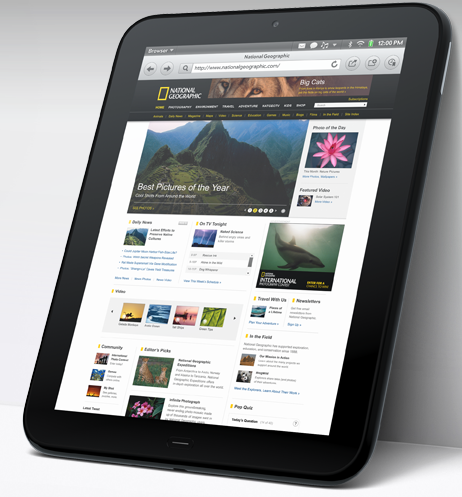 One of the TouchPad's biggest advantages over the iPad is that it's Flash capable, which means you can actually view Web sites as they were intended. It also means you can use Flash applications.
https://www.youtube.com/watch?v=FFUKn1hHflE
The biggest unknown and potential downfall is battery life. What is it? I have no clue, but sometimes what's not on a spec sheet is more telling than what is on a spec sheet. The battery is listed on the spec sheet with a 6300 mAh rating, but there's no mention of how long it will last. The iPad knocks it out of the park when it comes to battery performance and anything short of eight hours would be a disappointment with the TouchPad. Small tablets and eReaders should have enough juice to be thrown in a bag and forgotten about and snap back to life in an instant. Just ask any iPad or Kindle owner why they like their devices and I guarantee you that battery life will be in the top three reasons.
The HP TouchPad has a front-facing camera, which means you'll be able to video chat via Skype. Using Skype is a fantastic choice compared to using a home brewed app.
The HP TouchPad is available with a case and wireless keyboard.
If HP hopes to sell a significant number of TouchPads, it's going to really have to turn up the marketing volume and lean on partners. There's just too much competition and consumers will be looking at the iPad first in 2011. The iEcosystem is seemingly unstoppable, while the PlayBook and Honeycomb haven't even kicked into gear yet.
HP TouchPad Specs
Operating system

HP webOS

Display

9.7-inch XGA capacitive, multitouch screen with a vibrant 18-bit color, 1024×768 resolution display

Keyboard

Virtual keyboard

Email

Microsoft® Exchange email with Microsoft Direct Push Technology
POP3/IMAP (Yahoo!® Mail, Gmail™, AOL, Hotmail®, etc.)

Messaging

Integrated IM and SMS

GPS

A-GPS (3G models only)

Digital camera

Front-facing 1.3-megapixel webcam for live video calling4

Sensors

Light sensor, accelerometer, compass (magnetometer), and gyroscope

Media formats supported

Audio formats: DRM-free MP3, AAC, AAC+, eAAC+, AMR, QCELP, WAV
Video formats: MPEG-4, H.263, H.264

Wireless connectivity5

Wi-Fi 802.11b/g/n with WPA, WPA2, WEP, 802.1X authentication;
Bluetooth® wireless technology 2.1 + EDR with A2DP stereo Bluetooth support

Memory

Choose either 16GB or 32GB internal storage

Battery

Rechargeable 6300 mAh (typical) battery

Connector

Charger/microUSB connector with USB 2.0 Hi-Speed

Headphone jack

3.5mm stereo headset/headphone/microphone jack

Speakers

Internal stereo speakers and Beats Audio™

HP Touchstone for TouchPad

Compatible

Processor

Qualcomm Snapdragon dual-CPU APQ8060 1.2GHz

Dimensions

Width: 240mm (9.45 inches)
Height: 190mm (7.48 inches)
Thickness: 13.7mm (0.54 inches)

Weight

Approximately 740 grams (1.6 pounds)

As an Amazon Associate I earn from qualifying purchases.