HP TouchPad webOS Tablet Hands On Video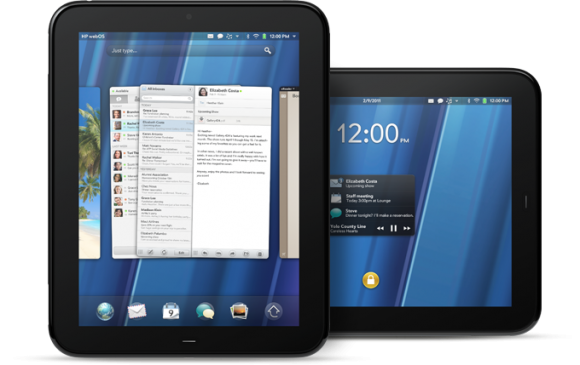 Earlier today HP had unveiled its webOS tablet, called the TouchPad, along with a few webOS-powered smartphone. The lineup announced today, according to HP, marks the beginning of the next-generation of webOS devices. The company is promising that the mobile operating system will make its way over to Internet-connected printers along with desktop and notebook PCs.
The tablet features a 9.7-inch capacitive touch display and differentiates itself from other tablets on the market with Beats audio, which is in partnership with Dr. Dre. Additionally, HP is also promoting the wireless synchronization, charging, and pairing with another webOS smartphone capabilities through the built-in Touchstone inductive charging system. With Touchstone on the TouchPad and on a webOS smartphone, you can begin to view a webpage on your tablet and then tap your smartphone near the center home button of your tablet and the webpage will then open up on your phone.
There are a lot of similarities in the UI and user experience, it seems, between Palm's webOS engine, that HP had acquired along with the handheld company, and Research in Motion's BlackBerry Tablet OS on the PlayBook. The 'cards'-based UI, the way that users close apps by dragging them off the screen, and fluidity of the TouchPad reminds me RIM's device when I saw it at CES.
Also, the way that both companies' tablets pair with a smartphone to deliver added value is similar; on the PlayBook, RIM is allowing users to view their smartphone contents–like email–while on the TouchPad, HP is saying you can answer calls and respond to SMS text messages on the tablet when a webOS smartphone is paired over Bluetooth. Another similarity between the two devices is that HP and RIM will be releasing a WiFi-enabled model first, followed by a 3G/4G-capable tablet.
The TouchPad will also make use of Qualcomm's dual-core 1.2 GHz processor, which will compete against the dual-core 1.0 GHz processor from NVIDIA on the Tegra 2-powered Motorola Xoom and the dual-core 1.0 GHz Texas Instruments-powered tablet from RIM.
Video of the BlackBerry PlayBook below: