HP TX Entertainment Notebook Double Vision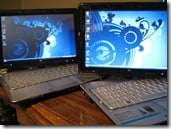 Time for a shoot out again on GottaBeMobile!   Over the next week or so I'll be doing some testing on the 2 HP units I have sitting on my desk.   The older tx2015 and the updated version that I put up a post about, the tx2525.   I'll be starting out with some benchmarks later tonight, so stay tuned!
Now where is that mouse, these touch pads are driving me crazy!!   Nothing actually wrong with the touch pads, I just prefer the eraser head and it's been so long since I've had to use a touch pad.

As an Amazon Associate I earn from qualifying purchases.