HP Veer 4G Coming to AT&T on May 15th for $100
AT&T has officially announced the release date and pricing of the HP Veer 4G, one of the new webOS powered handsets that HP announced alongside the HP Pre 3 and the HP TouchPad at a launch event back in February.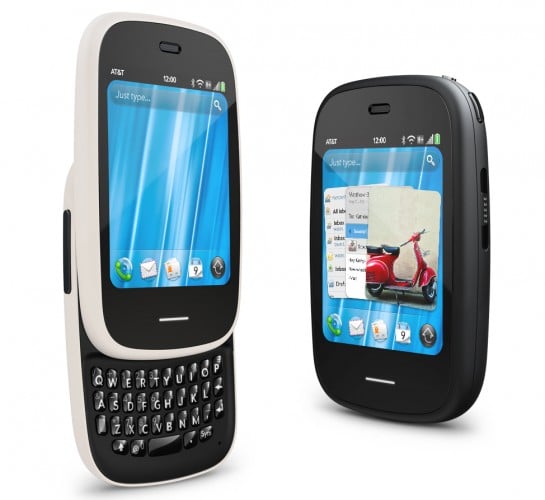 Just recently, the HP Veer 4G had shown up in a photo displaying its AT&T roots and its white coloring so if you've been following along, this shouldn't come as much of a surprise.
AT&T is going to be putting this thing on shelves starting May 15th and it will cost $100 on a new two year contract. It will also come in both black and white variation.
As a reminder, the HP Veer 4G will feature a teeny-tiny design, 2.6 inch display tiny, but it will run a 800MHz processor and will be powered by webOS 2.1, the first HP phone to do so.
The HP Veer 4G also includes a 5MP camera, 8GB of onboard storage, Bluetooth 2.1+EDR, and a 910mAh battery.
—
AT&T Goes Small With HP Veer 4G

Exclusive Smartphone for AT&T Customers Available May 15, Packs a Big Experience into a Powerfully Small Design

Key Facts

The new HP Veer 4G*, the size of a credit card and no thicker than a deck of cards, will be the smallest full-featured HP webOS smartphone to date and AT&T's** first to run the latest version of webOS software.
Perfect for feature phone or quick messaging phone users looking for all of the features and capabilities of a smartphone without compromising on size and style.
Exclusive in the U.S. for AT&T customers, HP Veer 4G is available in black and white.
HP Veer 4G will be available from AT&T at company-owned stores and online at https://www.att.com/ on May 15 and will cost $99.99 with a two-year contract.
4G Portfolio

AT&T is a pioneer in smartphones and devices, and expects to widen its portfolio in 2011. In January, AT&T committed to introducing 20 4G devices by the end of the year. Available exclusively to AT&T customers, HP Veer 4G will be one of several 4G devices offered in the first half of 2011.

Customer Benefits

With the HP Veer 4G, AT&T customers can have it all – access to the web, apps, social networks and more, all in one powerfully small design. For those who value size, pocketability and style, Veer offers a refreshing alternative to the larger smartphone devices that are currently in the market, without compromising on functionality.

Powered by HP webOS, Veer offers an advanced browser and an incredibly fast processor for a fantastic web experience including Adobe Flash support, plus 8GB of internal user storage and a full keyboard that slides out for fast texting and email. Notifications instantly display messages, reminders, and Facebook® updates on a vivid 2.6-inch touchscreen, with instant messages, texts and pictures from the same person available all in one view.

HP Veer 4G comes preloaded with several popular apps including mobile hotspot and AT&T Navigator. The mobile hotspot functionality*** allows users to share wireless internet connectivity with up to five Wi-Fi-enabled devices while AT&T Navigator**** a GPS-enabled navigation service, is designed to provide you with clear and precise audible and visual turn-by-turn driving directions, including full-color moving maps, using GPS directly from your wireless phone.

In addition, thousands of apps are available at your fingertips in the redesigned webOS App Catalog – social networking, health and fitness, productivity, finance, games—you name it. With Veer, customers are able to keep multiple apps open at once and easily switch back and forth between them. Purchasing apps is now even easier with the addition of carrier billing. Customers can now buy apps on their phone and have it added to their monthly bill with just a tap.

If you need a little help finding your way or locating cool things to do around you, Veer also boasts built-in GPS.

Key Specifications

HP webOS 2.1
3.63 ounces
Tri-band UMTS: 850/1900/2100; HSDPA Cat 10/HSUPA Cat 6
Quad-band GSM/EDGE
800Mhz processor (Qualcomm Snapdragon MSM7230)
2.6-inch multitouch display screen with a vibrant 18-bit color, 320×400 resolution
Slide-out physical QWERTY keyboard
Email and integrated IM, SMS and MMS
Facebook integration, YouTube
Wi-Fi/aGPS capable
5-megapixel camera with extended depth of field, geotagging, and video capture
Stereo Bluetooth (2.1)
8GB internal storage(~6.1GB available)
910 mAh battery; up to 5.0 hours of talk time or up to 300 hours of standby time.
webOS WebKit browser with Flash support
HP Touchstone compatible (sold separately)
To learn more about the HP Veer 4G, visit www.att.com/mobilephones-news.

Quotes

"A large majority of our customers are choosing smartphones but they don't all want the same thing," said Michael Woodward, vice president, Mobile Device Portfolio, AT&T Mobility and Consumer Markets. "HP Veer 4G gives us a highly unique and feature-rich smartphone for customers who want something a 'little' different."

"Veer is introducing the smartphone experience to a new generation of users," said Stephane Maes, vice president of smartphone product management, Palm Global Business Unit, HP. "Its unique combination of high-end webOS smartphone features in a surprisingly compact package is just right for customers who want to do more with less."

*4G speeds delivered by HSPA+ with enhanced backhaul. Available in limited areas. Availability increasing with ongoing backhaul deployment. Requires 4G device and compatible voice and data plans. Learn more at att.com/network

**AT&T products and services are provided or offered by subsidiaries and affiliates of AT&T Inc. under the AT&T brand and not by AT&T Inc.

***Mobile Hotspot Requires a DataPro 4GB plan. Devices connected to your Mobile Hotspot use data from your DataPro 4GB plan. Overage charges apply if the included monthly data allowance is exceeded. Performance may vary depending on the number of devices connected and other factors. If you do not use a password, others will be able to use your Mobile Hotspot connection

****Navigator requires a separate subscription

As an Amazon Associate I earn from qualifying purchases.