HP webOS Topaz Tablet UI Leaked
Following an earlier leak of the HP webOS tablet, codenamed Topaz, leak, we now have information on some of the user interface and user experience elements on the tablet. PreCentral, which first reported on the webOS tablet's UI, is saying that they aren't sure whether the UI elements discovered will make it the final webOS build for the tablet or if these are merely part of HP's early design planning for the Palm-developed operating system. Part of the UI discovery made points to new gestures, web browsing, contextual pop-up boxes, and improvements to Google Maps.
Gestures
If the UI elements discovered make it the final build of webOS for tablets, it seems that HP will be implementing more multi-touch gestures to compete against Apple's iPad. Rival Apple had previewed additional multi-touch gestures in the iOS 4.3 beta for the iPad, but the Cupertino, California company says that those features are for developer testing and will not make it to the consumer release of iOS 4.3. For its part, it's unclear how HP will implement the new gestures, but the following actions will be supported in webOS:
Double Tap
Tap & drag
Tap & hold
2 finger tap
2 finger tap + drag


Keyboard
The company will be implementing a virtual keyboard for the larger 9.7-inch tablet. Unlike the standard iOS keyboard on the iPad, the HP webOS tablet will have space at the top for some quick actions, like moving between different fields–similar to using the 'Tab' key on a desktop keyboard, stepping through characters, and the option to hide the keyboard, which is similar to hitting the 'back' button on Android though HP's implementation may be more intuitive and logical.


Panel UI
To take advantage of the larger screen and create a more optimal tablet user experience on a webOS slate, HP will be introducing a multi-pane UI. This is similar to Apple's iPad Mail application, or the mail app on Samsung's Galaxy Tab. This would give users visual access to more information and will give apps a more desktop-like feel to them.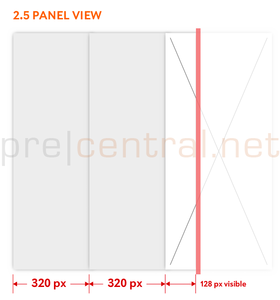 Maps
There will be some enhancements to the Google Maps UI to help give users more control and options of the mapping app.

Tabs and Pages
On the Palm Pre, Pixi, and Pre 2 webOS smartphones, the OS allowed users to open multiple browser windows through its Cards paradigm by creating multiple browser cards. With the larger screen on a tablet, HP is looking at enhancing the user experience on the larger screen by allowing users to manage their browsing session through tabs, rather than multiple Card views.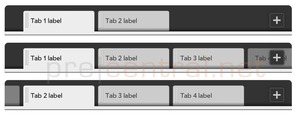 Also, if HP enters the digital books market, there is also a page turning view that could come in handy.