HP's CTO tweets photo of prototypes… sort of
In connection with a panel event at SXSW, entitled "Hacking the Future", HP CTO Phil McKinney was photographed with a trio of "breakthrough prototypes" that presumably will be shown at the event. The devices were not quite revealed on Twitter.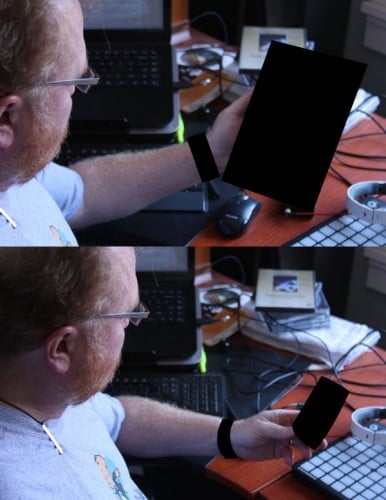 The photo was actually tweeted by Mark Budgell, presumably because McKinney could not take a photo of himself at that angle, after the prototypes were blacked out. The devices include a couple of handheld devices, one the size of a small slate, the other the size of a small phone, and a wrist-worn device like a wristwatch.
Whatever's under those black boxes, they're extremely thin. McKinney's hand positions strike me as unnatural unless holding something wafer thin and light. What's on his wrist must be right up against his skin like a nightclub underage wristband.
It's important to note that his "Hacking the Future" panel is looking out 5-10 years, so these prototype devices could be of limited functionality or even non-functional pending some advancement expected in the near future. No point in socking away money for the "HP Wristband" just yet, but it will be exciting to see how McKinney envisions the mobile gadgets of the future.
Via Engadget

This article may contain affiliate links. Click here for more details.