HP's Windows 8 Slate Leaked
A leaked presentation slide reveals HP's tablet ambitions for Microsoft's Windows 8 operating system, which will be more touch-centric than prior versions of Windows. The tablet, dubbed the HP Slate 8, will be geared towards business users and will follow HP's Slate 500, which was release with Windows 7.
In the past, HP had said that it would be releasing a tablet based on Microsoft's Windows 8 rather than Android when the company had announced that it would ultimately keep its PC division rather than selling or spinning it off much like what IBM had done years ago. Another potential at that time would be webOS through the company's acquisition of Palm.
The Slate 8 is said to run on the x86 architecture, which is used by Intel and AMD, rather than an ARM-based operating system. The tablet is said to weigh 1.5-pounds, which is the same weight as Apple's first-generation iPad, and will have a battery life of between 8 to 10 hours.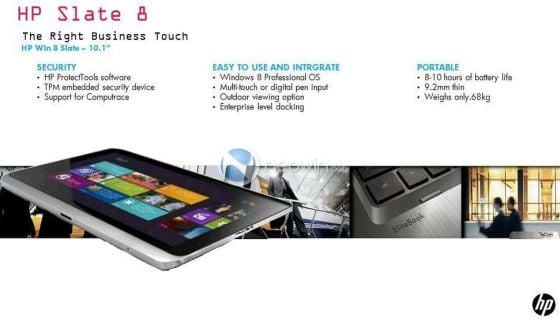 The x86 architecture makes sense as this is a business slate. Though Windows on ARM will support ARM-based architecture, those systems will be more limited to HTML5 apps with the Metro UI as ARM-based releases of Windows 8 won't be able to support legacy Windows programs. As a business machine, legacy program support will be a key selling point. The downside for consumers eyeing this release is that Intel-based systems would be a bit more expensive than ARM-based system, and that's something that we've seen with the Windows 7 release of Samsung's tablet, costing in excess of $1,000 whereas the Apple iPad starts at $400 (for the iPad 2 base model). The leak mentions that the Slate will ship with Windows 8 Pro according to Liliputing.

As an Amazon Associate I earn from qualifying purchases.