HTC 10: 5 Things I Learned on the First Day (Video)
The new HTC 10 is coming soon to the United States after being announced on April 12th. It has a beautiful all aluminum design, improved camera, a fingerprint scanner, top-tier specs that rival the Galaxy S7 and much more. Now after spending a little over 24 hour with the HTC 10 here are some thoughts, impressions and five things I learned about this device after using it for a day.
A full review is coming soon, but in the meantime below is our HTC 10 hands-on video and first impressions, as well as some thoughts on what we did and didn't like about this new phone. Already I can say this could be HTC's best smartphone in years, and certainly a device worth considering.
Read: HTC 10 vs Galaxy S7: What Buyers Need to Know
For 2016 HTC completely overhauled their smartphone approach, ditched the "M" branding, improved the camera and design, and are offering a paired down clean software experience unlike Samsung or LG. Similar to what Motorola does with the Moto X. There's a lot to like about the HTC 10 and plenty to talk about, so lets get started.
In recent years HTC has really struggled to compete with Samsung, Apple and even LG in the smartphone market, but 2016 could be their return to dominance. They've put together a well rounded smartphone with every box checked on the spec sheet, a clean sleek and durable design, and no gimmicks. This is arguably HTC's best smartphone yet.
In fact, after just 24 hours I can already recommend the HTC 10 over the LG G5. It's a beautiful and finished product, fast and smooth, has a great camera, and so far battery life looks promising. Above was our first impressions and overview video, and below is some more information for those debating if its worth waiting until early May to buy the HTC 10.
Excellent Design
One of the best when it comes to premium well made smartphones is HTC, and that's extremely evident on the new HTC 10. Looking at the back this is clearly an HTC smartphone, but it has this new double-wide chamfered edge with a nice shine to it. At first (or in leaks) it looked a bit silly, but in the hands and in real life it actually looks pretty good. It's slightly rounded on the edges and it's comfortable in the hand.
Those seeking a premium all metal phone will absolutely love it, and it isn't covered in glass like the Galaxy S7. Meaning it isn't a fingerprint magnet, and you won't need to worry about cracks or damage if you drop your phone.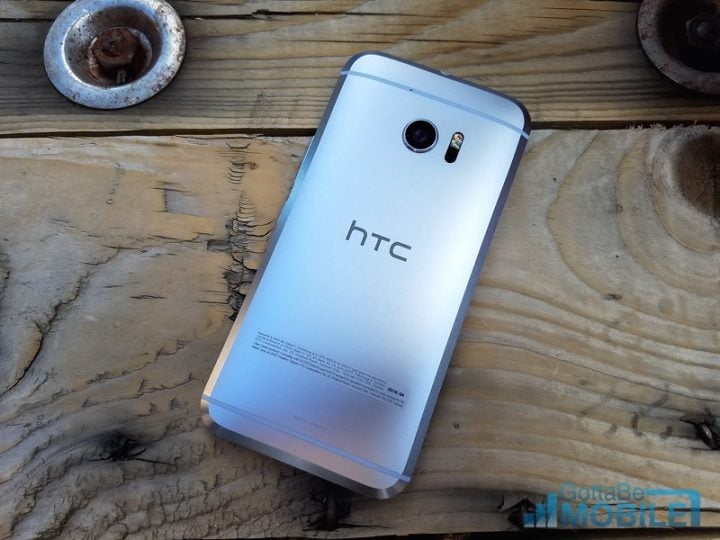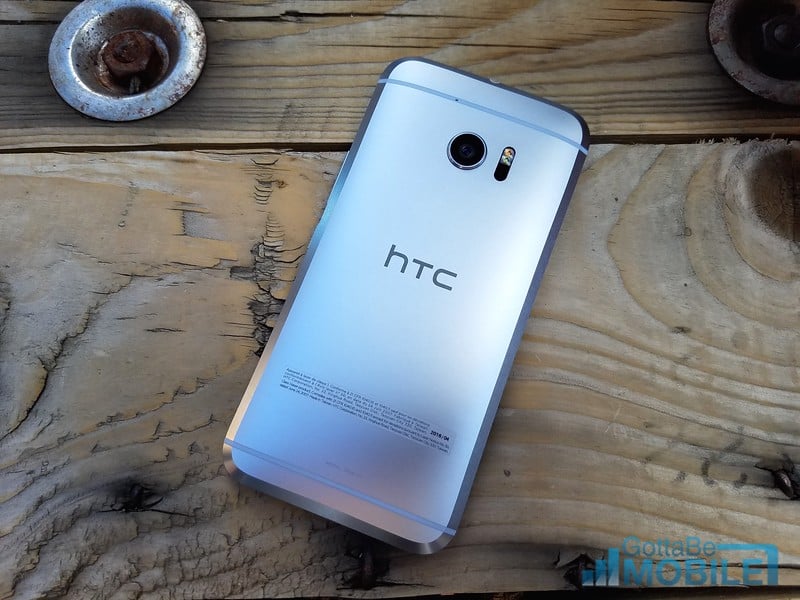 HTC received a lot of criticism last year for keeping the design the same as the HTC One M8, and arguably the One M7, but it's completely different this year. It has a big chamfered edge, a sleek new look, a smaller camera bulge, and it's just well made. Coming from the LG G5, the HTC 10 makes me appreciate a well-made solid design.
The most notable changes however, come from the front. There's no longer big aluminum bezels, dual speakers, a big black bar for the HTC logo and screen being wasted by on-screen keys. Instead we have original capacitive touch keys, with a dedicated home button and fingerprint scanner in the middle. It isn't a push-button like the Galaxy S7, but it is the home key and works well.
Another important aspect of the design is being able to make it sleek and durable without missing key features. We still have a micro-SD slot to expand storage, a new USB Type-C charging port and two speakers (in different places) but more on that below.
All said and done the HTC is similar but different, and in a good way. It is refined in every way, durable, and feels like one of the best made smartphones we've used in 2016.
HTC 10 Display
Finally the HTC 10 has a bigger screen to compete with the rest of the Android competition. The original HTC One M7 was only 4.7-inches, then the past few years they've offered a 5-inch 1080p screen. All while everyone else had huge Quad-HD screens.
Well, with the HTC 10 users received what they've been asking for. It now has a large 5.2-inch 2560 x 1440 Quad-HD S-LCD5 display. Is isn't AMOLED like Samsung or the Nexus 6P, but it still looks surprisingly good.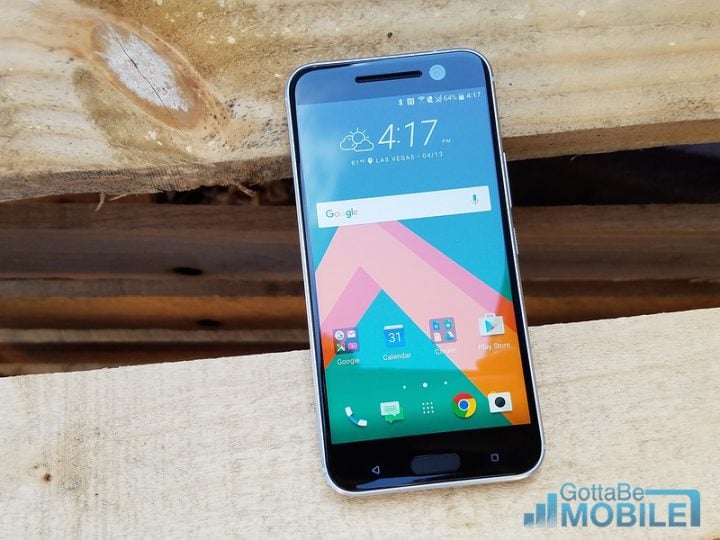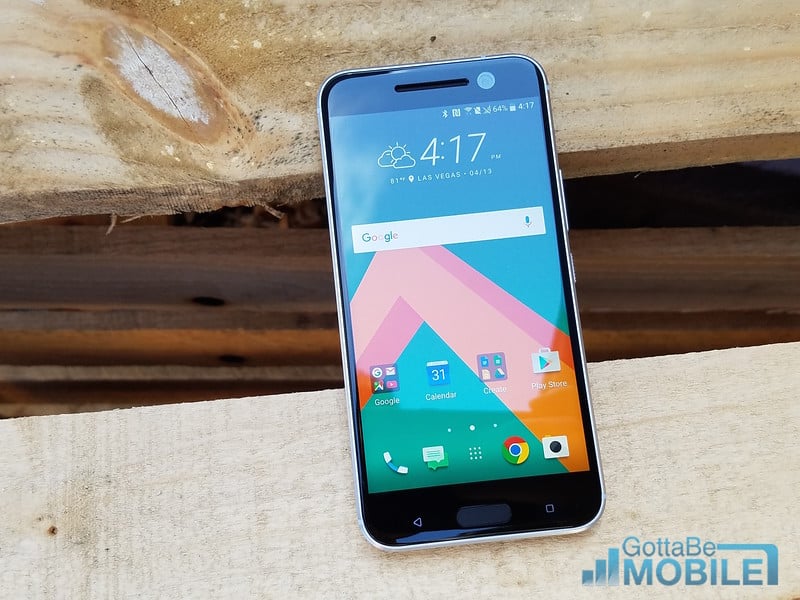 Colors are crisp and bright, not over-saturated, and very accurate. It isn't overly warm or cold, with no yellow or blue hues, and it looks really really good. It also works great outdoors, which is something most of HTC's Super LCD screens have to offer.
The new 5.2-inch screen doesn't have on-screen keys, so there's plenty of real estate for movies and video. HTC also covered it with Gorilla Glass 4 for scratch protection. And while it may not be as pretty as an AMOLED from other smartphone makers, it's still a great screen. The LG G5 display left a lot to be desired, and the HTC 10 fills the gap perfectly. Those who didn't grab the Galaxy S7 or S7 Edge, should consider the HTC 10.
BoomSound Hi-Fi Speakers
A big feature and design missing that HTC has offered for years is the dual front-facing speakers. These are gone in favor of a big slab of glass on a bigger 5.2-inch screen, and of course the fingerprint scanner.
However, buyers shouldn't be too concerned about the lack of speakers. In fact, it still has two speakers and puts out excellent sound. HTC added a speaker to the top front in the earpiece, and a secondary speaker on bottom like most other phones. As shown in our image below.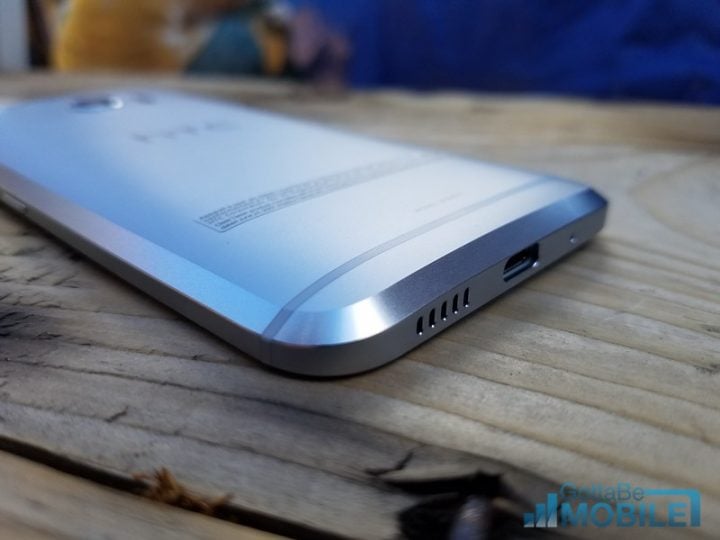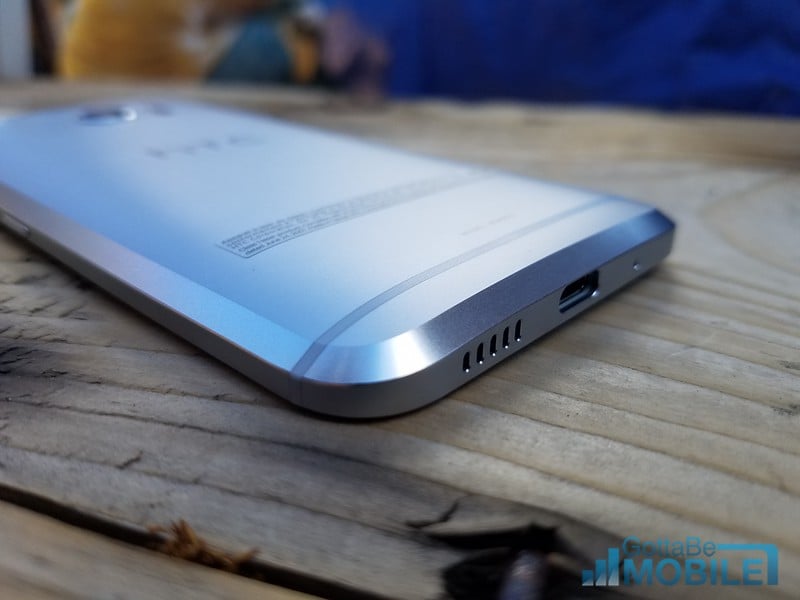 The top front speaker is loud and crisp, with all the highs from any music or video. The spec sheet actually explains it as a tweeter on the front for high end, and the bottom speaker is a dedicated subwoofer for bass, and low-end sound spectrum. Both speakers have their own amp for power, and it all comes together to sound really good.
With the HTC 10's new BoomSound Hi-Fi speakers users can feel and hear the great sounding audio. It's loud, clear and crisp, and more of a side-grade. Rather than calling it a downgrade. We're pleasantly surprised and happy with the speaker quality.
So for those who were interested in the HTC 10 until they saw the dual front speakers were missing, we'd suggest trying it out in stores before passing judgement.
Improved and Clean Software
I'll admit it, I've never liked HTC phones because of the Sense UI that covers stock Android. Similar to Samsung and LG, HTC has always covered Android with their own user interface, and made things more complicated than it needed to be. That isn't the case with the HTC 10. In fact, it's the best version of HTC Sense yet, and something we're excited to see.
HTC took an approach similar to Motorola, and kept much of the stock Android design in tact, and added useful features to it like Boomsound controls, HTC Blinkfeed, addition setting options and a few other things. All of this is being powered by a fast and capable Snapdragon 820 processor with 4GB of RAM, just like the Galaxy S7 or LG G5.
Tap a fingerprint on the front scanner and unlock right into a new and improved HTC Sense software. It's more like stock Android with touches of Google's material design guidelines, and everything is buttery smooth and fast. Animations are cranked up to full speed, but that's ok. Opening websites, updating apps, flipping through settings or even switching between apps is all fast and smooth. Before the launch event HTC claimed this would be the best and fastest Android experience yet, and they might be right. We'll need more time with the hardware and software, and will talk more about it in our full review, but so far we like what we see.
Most phones are filled with unnecessary apps, controls, and bloatware. And while some bloat may come from carrier models, unlike this unlocked model we have, it's still very simple. HTC is using many of Google's apps, rather than bundling them with the phone and then adding their own like everyone else. The result is more storage available to the end user, a cleaner and better experience, fast operation, and easier and quicker updates later down the line.
Camera, Battery & Charging
A few other areas the HTC One M8 or M9 struggled was in terms of the camera, and battery life. Neither of those are an issue in 2016. In fact, the camera already tied or beat out the Galaxy S7 Edge as the best camera phone on the market, and the battery is bigger this year too.
Here's the full specs of the HTC 10, then we'll continue on to talk about the camera, battery and charging.
HTC 10 Specs

5.2-inch 2560 x 1440 Quad-HD SLCD5 Display
Snapdragon 820 Processor with 4GB of RAM
32-64GB of internal storage, with a micro-SD slot (up to 200GB)
Android 6.0.1 Marshmallow with Sense UI 8
12 Megapixel "UltraPixel" camera with OIS, laser auto-focus, f/1.8 aperture & more.
5MP front camera, f/1.8, OIS and more
Fingerprint Scanner similar to the Samsung Galaxy S7 (and HTC One A9)
3,000 mAh battery for all-day usage, Quick Charge 3.0 Rapid Charging
32-bit Hi-Fi BoomSound Bottom Facing Speaker (not front facing)
USB Type-C Charging Port
Aluminum Design
This year HTC is using what's likely the same camera as Google's flagship Nexus 6P. It has a 12 megapixel (UltraPixel 2) camera with a bigger sensor which allows for fast captures and improved low light. The same approach Google, Samsung and even Apple took with all their recent phones.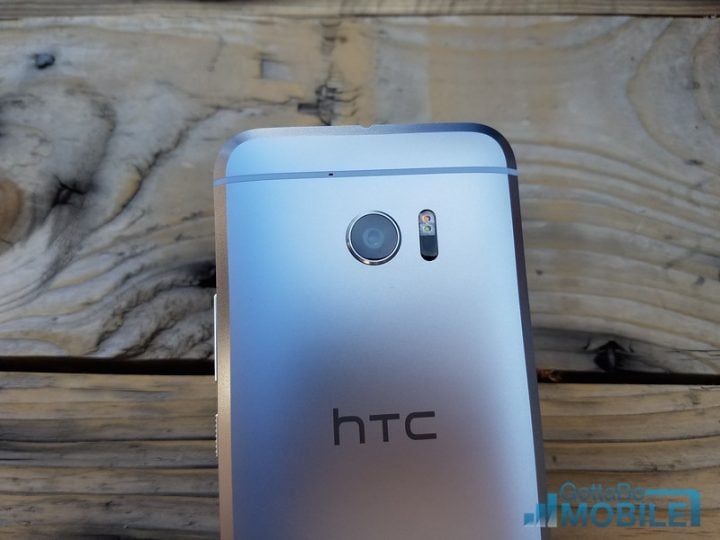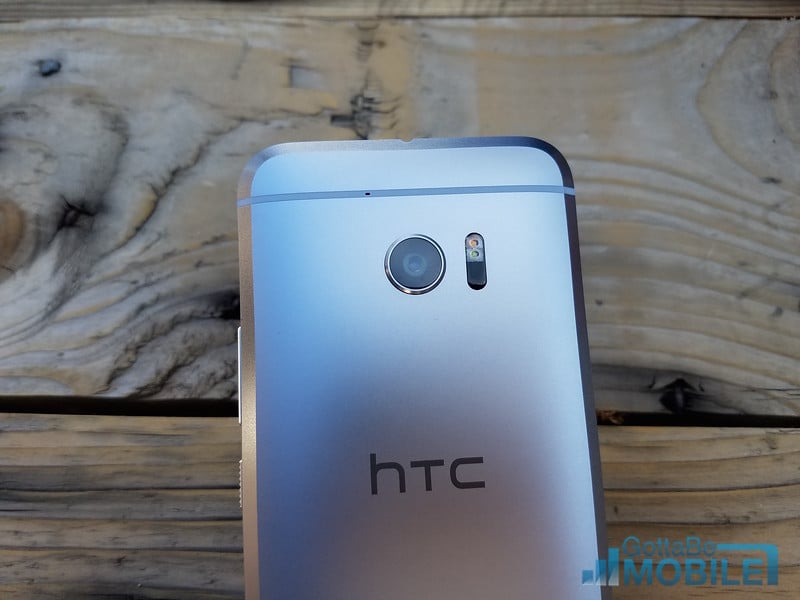 HTC is using a large 12 Ultrapixel camera with a fast f/1.8 aperture, laser auto focus, dual-tone flash, and optical image stabilization. It also does 4k video recording, and slow-mo. So far it seems to be a very capable smartphone, on par with the Galaxy S7, and leaps and bounds better than the HTC One M9 from 2015.
We also have the world's first front facing camera with optical image stabilization. I think it's being called the HTC UltraSelfie camera. Featuring a 5 megapixel camera with image stabilization and it too has a fast f/1.8 aperture. This should take great photos whether you're using the rear camera, or snapping selfies with the front shooter. We'll discuss more in our full review.
Users will also be happy to see a large 3,000 mAh battery inside, which features supports for Qualcomm Quick Charge 3.0 technology. Meaning it can recharge from 0-80% in around 35-40 minutes, and fully recharge in just over an hour. Rather than 2-3 hours.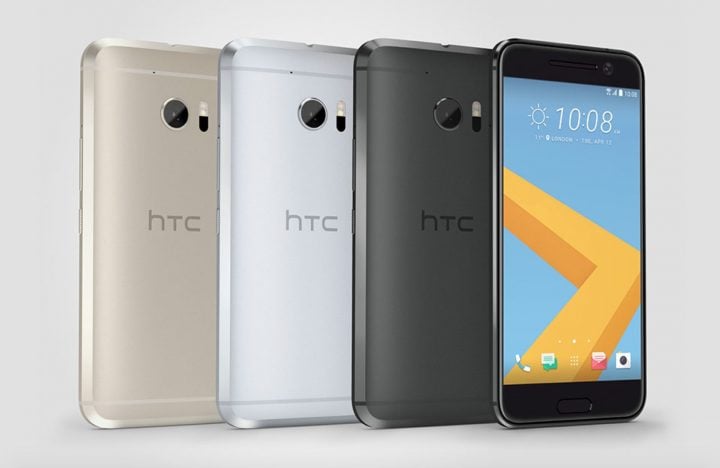 It lasts long, recharges quick, and uses a new USB Type-C cable. Type-C is reversible and plugs in either direction, is faster for data transfer when moving photos and video, and can even recharge other devices through USB Type-C. It's the future.
We haven't been able to fully test battery life yet, but so far it's looking very promising. HTC claims nearly 2-days of battery life with mixed usage, which may be a bit of a stretch, but this should offer some of the best battery life of any phone available. Stay tuned for more details, and be on the lookout for a full review coming soon.
The new HTC 10 will be available in early May from Verizon, Sprint and T-Mobile, or unlocked from HTC.com for AT&T starting at $699. Carriers will announce pricing and availability in the near future. Users can also pre-order it now from HTC for $599 using the promo code "HTC1008".

As an Amazon Associate I earn from qualifying purchases.