HTC 10 Release Date and Deals
The impressive HTC 10 smartphone was unveiled back in early April, and has been available in the US for more than a few months. However, as summer comes to a close we're starting to see a lot of HTC 10 deals surface, including a huge one announced on August 8th. Read on for more information and the latest deals.
As expected, HTC debuted a phone that has a lot to offer and looks to be their best smartphone in years. The company struggled with the HTC One M8 and M9 in 2014-15, for offering a nearly identical design similar to what Apple and Samsung does. This year though, they have an all-new completely reinvented (yet familiar) HTC 10.
Read: HTC 10: 5 Things I Learned the First Day (Video)
The new and improved HTC 10 went up for pre-order the day it was announced at htc.com for select carriers, and now the site has some great deals worth considering. Here's everything you need to know about the HTC 10 release dates, deals, pricing and more for those interested.
HTC kicked off the announcement by talking a lot about the design. Claiming the newly redesigned unibody aluminum shell was perfected through customer feedback and various polls. Some love the look on back with that big chamfered edge, others, not so much. Until we get our hands on it, I'm somewhere in the middle.
Update: On August 8th HTC confirmed some huge savings. For a limited time the HTC 10 is $100 off, costing just $599 from their online store. HTC is also giving buyers a $100 credit to use on accessories, and the JBL Reflect Aware C (USB Type-C headphones) absolutely free. That is a $199 value. So $100 off, free headphones, and $100 gift card for accessories. Quite a bit of savings, but only for a limited time.
It wasn't until May 13th that the Sprint HTC 10 became available for $21 a month, $199 with a 2-year contract, or $624 outright. Making Sprint one of the cheapest routes to the HTC 10. It was also one of the first carriers to offer it after Verizon.
Back in May during Google IO the T-Mobile HTC 10 was released along with a pretty good HTC 10 deal. Buyers get a free second rapid charger and Ice View case for a limited time. The HTC 10 is now available from all US carriers, except AT&T. T-Mobile is asking $679.99 out right or $28.34 a month for 24 months. Read on to the "Deals" section for more details and discounts.
As expected, the new HTC 10 has top-tier specs across the board, and is actually very similar to the award-winning Galaxy S7 through and through. Featuring nearly the same specs under the hood, a different design, and some small changes. Here's the full details. As a reminder, AT&T will not offer the HTC 1o directly.
HTC 10 Specs & Features
5.2-inch 2560 x 1440 Quad-HD SLCD5 Display
Quad-Core Snapdragon 820 Processor with 4GB of RAM (Like the Galaxy S7)
32 or 64GB storage with a micro-SD slot for storage expansion
12MP UltraPixel Rear Camera (f/1.8, 1.55um, Optical Image Stabilization)
5 Megapixel Front Camera with f/1.8 aperture, OIS
Unibody aluminum design in three colors
Android 6.0.1 Marshmallow with Sense UI 8.0
Fingerprint Scanner
FreeStyle UI where apps, icons, or widgets can go anywhere. No longer locked to a 5×5 grid
3,000 mAh battery for all-day usage, Quick Charge 3.0 Rapid Charging
32-bit Hi-Fi BoomSound Speakers (Tweeter up front, sub on bottom)
Supports both Google Cast and Apple AirPlay
more
The HTC 10 has a lot going for it. A simple and beautiful design that is well-crafted and probably much more premium than the LG G5. Top tier specs across the board, a stunning new camera that just topped the Galaxy S7 in reviews and reports, and tons of power under the hood for apps, games and even music.
Yes the dual front speakers are somewhat gone, but the sound quality and crisp highs aren't. HTC put a tweeter up top in the earpiece for great crisp highs during music or video, and a subwoofer on bottom for the lows. They each have their own amp and power source, and the phone has Hi-Fi sound. Meaning they aren't both front facing, but don't need to be, and our first impressions were very favorable on the speakers.
HTC 10 Release Date Details
The new HTC 10 smartphone is available to order now at HTC.com for $699, which is slightly more than the Galaxy S7, and less than the Galaxy S7 Edge. It's a good middle ground in terms of size, and price. They do have a $100 off coupon, and most carriers will likely ask just over $600 for it.
HTC is selling a global unlocked model on its website, as well as a model that works with AT&T and another for T-Mobile. These are unlocked, without carrier bloatware and apps, which also means faster software updates. This is the best route for buyers.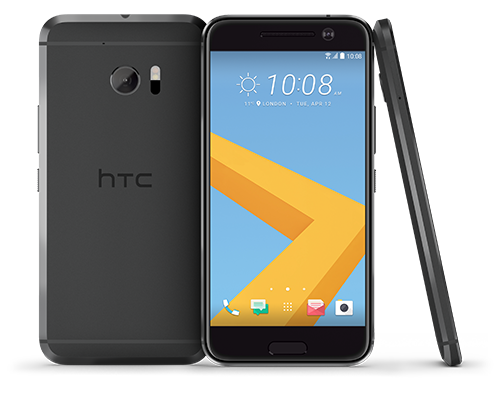 The phone was officially released in early May, and has continued to be a great option. We're now seeing deals here and there, with a big one available right now from HTC themselves.
HTC 10 Colors
The HTC 10 comes in three impressive new colors: Gold, Silver, and Charcoal. However, it appears that the US will only have Silver or Charcoal (black) available. It comes with a black front, covered entirely in Gorilla Glass. There's also a version with 64GB of storage, a white front model and more, but those won't be available in the US at launch. The 32GB model is the only option from carriers here in the United States.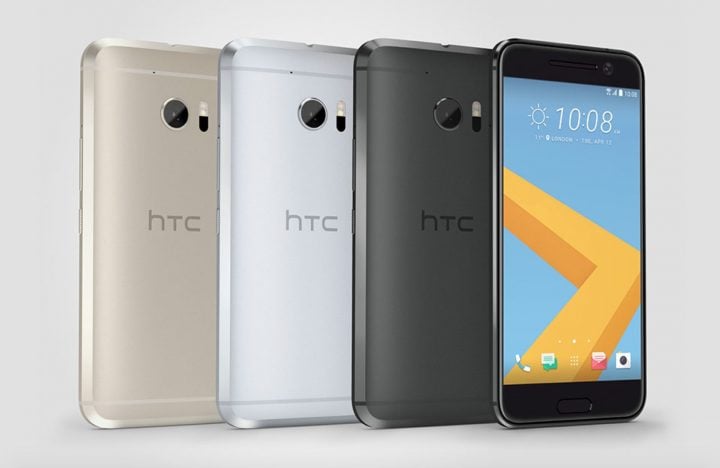 Over the course of the next few months we could see some color-specific models arrive as carrier exclusives, or users can likely import the 64GB model if desired. That said, it has a micro-SD slot so having more storage isn't too much of an issue. HTC also worked with carriers, their software team, and Google to offer less bloatware than other phones (we're looking at you, LG G5) to offer a streamlined experience and more storage for owners out of the box. It also has a lot of stock Android, with far less HTC Sense in the way, which many will likely enjoy.
HTC 10 Carriers
This is the big news. The all-new HTC 10 smartphone will be available in May from Sprint, T-Mobile and Verizon Wireless, with no mention of AT&T. Apparently AT&T will not carry the new HTC 10.
It's worth noting that Verizon Wireless has already confirmed they'll be the first carrier in the US to offer the phone, ahead of the rest. And it's available as of May 5th.
So what about those on AT&T? Well, we have good news. Technically it's better for AT&T customers that the carrier isn't offering it, because HTC is selling an unlocked model on HTC.com. This is unlocked, no carrier branding or bloatware, and will get software updates direct from HTC rather than jumping through carrier hoops, which often delays updates by 6-8 weeks.
The global unlocked model works on AT&T or T-Mobile, and the choices above only mean it will ship with that carriers SIM card. We'd recommend those on AT&T or T-Mobile choose this route. HTC also has interest-free financing for 12 months for those who'd rather not drop $699 outright.
HTC 10 Deals
While we're not seeing a free VR headset or spare battery like some of the competition, as HTC doesn't have a removable battery and won't be giving out a HTC Vive VR, we are expecting some deals to surface. Both Samsung and LG had deals for those who pre-ordered, and as carriers make announcements be on the lookout or check back here for more information.
For a limited time the HTC 10 is $100 off at HTC.com and comes with $100 to use on accessories from their store. Click here to get started. We saw this back at the launch, and now it's back but with a free pair of the $200 USB Type-C JBL headphones. They are free with the purchase of the HTC 10 from HTC.com.
This is about the best option right now, but as summer ends and school starts up we can expect to see even more deals surface.
UH-OH Protection
HTC's new smartphone may not be IP68 water resistant like the Galaxy S7, but that shouldn't be a concern for buyers. Similar to previous years, the phone will come with HTC UH-OH Protection absolutely free. Which includes one replacement at no charge within the first 12 months of ownership for a cracked screen or water damage.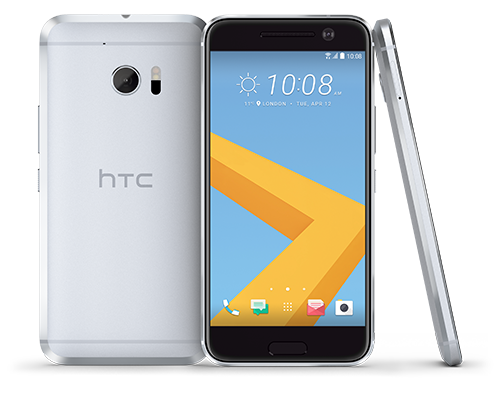 This means that owners can use it without being worried about it getting dropped, damaged, or broken, because HTC will replace it with no hassle.
For now all buyers need to know is the HTC 10 has plenty to offer, a refined design, a great new user interface loaded with options, customization, themes and more. It's rounded out by delivering a great new camera, bigger display, better battery life, expandable storage and can be yours right now.
If you are buying the HTC 10, check out our roundup of some of the best cases below.
15 Best HTC 10 Cases
HTC 10 Ice View Case
Following the success and tradition of the popular HTC Dot View case from previous years, HTC has an all-new case for 2016 called the "Ice View Case". Rather than being a flip case with tiny dots all over that lets light shine through for quick notifications, the entire case is "iced" and glazed over, yet still see-through so owners can get information without opening a case.
The HTC Ice View combines protection for your phone with instant accessibility. With this case owners can take photos in a snap, read texts, adjust the volume, switch between songs, turn on the flashlight and much more without ever opening the case and exposing the device. HTC Ice View also supports 3rd party notifications like Instagram, Facebook, Google+ and more.
Double tapping the screen while the phone is off will instantly show users the time, date, battery life (the big circle) and even weather information and incoming notifications. All while still being protected by the front cover. This at-a-glance information can all be heavily themed and customized as users see fit as well.
A quick swipe will show users a text message, give access to volume and music playback controls, or even quickly launch the camera and snap photos. It's a breeze, easy to use, and a case all prior HTC owners have enjoyed. It's still a nice case, has a HTC branded magnet to turn off the display when closed and much more. Buy one now so it's ready and waiting when the phone is released.