HTC 10 Update Fixes Problems as Release Nears
The new HTC 10 smartphone is still not available from most carriers in the United States, with only Verizon offering it along with an unlocked model on HTC.com. Today, the unlocked HTC 10 is receiving a very important "release day" update to fix problems, improve the camera and get it ready for the global release. Here's what owners or future buyers need to know.
HTC announced its new phone back on April 12th, but it didn't get released until early May on Verizon Wireless. We're still waiting for Sprint and T-Mobile, and AT&T will not offer this impressive phone in 2016. We do have some new details regarding the T-Mobile release, as well as an update rolling out today with lots of improvements.
Read: HTC 10 Release Date Breakdown
This year HTC is selling the new HTC 10 unlocked right from HTC.com with no carrier branding, no bloatware, with the promise of faster updates and more. It's honestly the best route for any buyer, but payment plans from carriers are nice too. If you have an unlocked HTC 10, an update is rolling out today.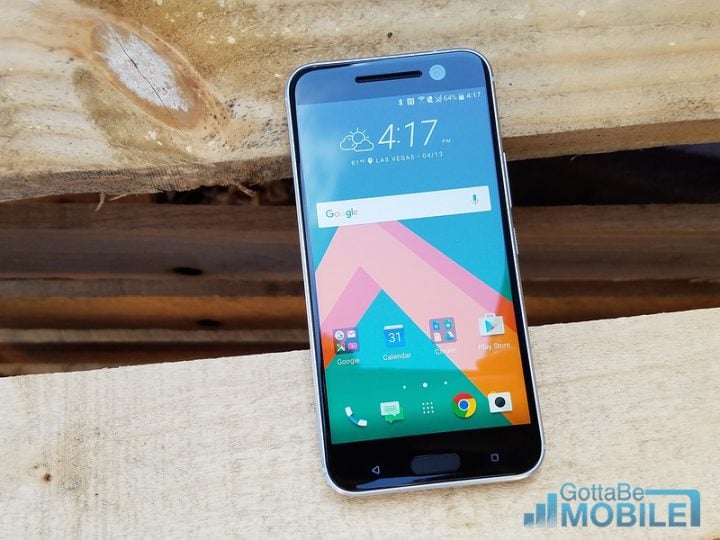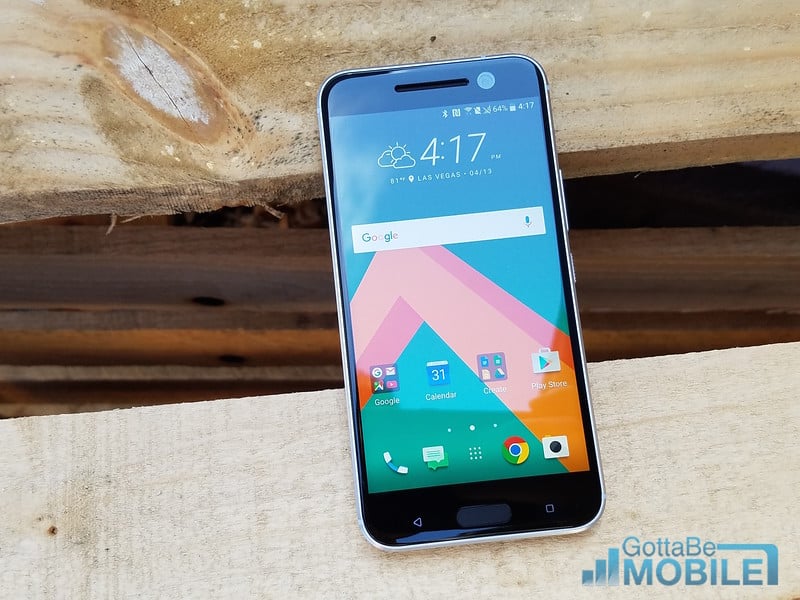 As of Tuesday May 10th, HTC is pushing out a large 400MB stability and camera improving update that everyone will want to know about. It started arriving this morning, and reportedly has lots of changes. We were pleasantly surprised with the HTC 10 camera in our hands-on, although at times it wasn't quite as fast as the Galaxy S7. That, and more, will be better after today.
The changelog is rather small, but touches on three very important aspects of the HTC 10. According to the company this update will bring: camera performance enhancements, WiFi stability and system stability improvements. Meaning better camera experience, better WiFi and overall device performance and stability will also be better.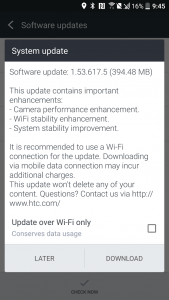 We're hoping the auto-focus is a little faster after this update, as that was one of a few small complaints. Overall the HTC 10 is a great phone, possibly one of the top 2-3 phones released in 2016.
Read: HTC 10 vs Galaxy S7: What Buyers Need to Know
Currently the HTC 10 is only available from HTC.com as an unlocked smartphone, or from Verizon Wireless. Sprint recently confirmed it will be released on May 13th, and we've yet to hear from T-Mobile regarding its release date.
T-Mobile HTC 10 Release
That being said, we do have some potential good new. According to a few anonymous sources the T-Mobile HTC 10 release date is set for May 18th, which isn't quite "Early May". It will be worth the wait though, because we're hearing T-Mobile will be handing out a free Ice View case as well as a second spare USB Type-C charger for those who buy it from them vs the competition.
If true, that means the HTC 10 arrived on Verizon starting May 5th, it will be available from Sprint on the 13th and T-Mobile come May 18th. AT&T sadly will not carry the phone, but users on that carrier can get an unlocked model from HTC.com. Which, is probably the best route as it won't have all the AT&T, Amazon, DirecTV and lookout mobile security bloatware. Giving owners a cleaner phone with more space, faster updates, and a better experience.
All said and done, those with an unlocked HTC 10 can head into settings > about phone > check for updates and download the large 400MB update right now. We're expecting a similar update to rollout on Verizon soon, followed by Sprint and T-Mobile once it's available from other carriers. Stay tuned for more details.

As an Amazon Associate I earn from qualifying purchases.