HTC 10 vs HTC One M9: 5 Reasons to Upgrade
Now that the new HTC 10 is available in the United States buyers have a lot of choices. Between the HTC 10, Galaxy S7 or even the LG G5. That said, here we want to take a look at the HTC 10 vs the older HTC One M9 for those considering making the switch.
Over the past few years HTC has struggled in the smartphone market, but they still have their loyal buyers who love a premium all metal phone. HTC has been doing it for years, while other manufacturers are just catching up. The new HTC 10 is no different, and is perhaps their best yet. Here are a few reasons it's a worthy upgrade over the HTC One M9, and certainly the M8 from the year before.
Read: HTC 10 Hands-on: 5 Thoughts After 24 Hours
On April 12th the new HTC 10 was announced, ditching the M branding and replacing the mediocre HTC One M9. For those still enjoying an older HTC smartphone, here's what makes the 10 one of their best yet, and what you need to know.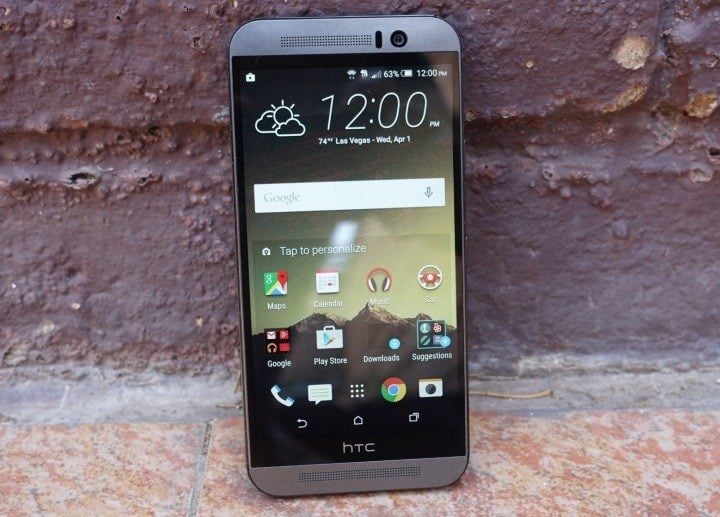 The HTC One lineup has been an excellent phone for years, but continues to struggle with a similar overall design, mediocre camera, and poor battery life. The struggles of HTC have been well documented, but that is all about to hopefully change. With a newly refined the design, matching Samsung on many points, a good camera and long battery life the HTC 10 has it all.
With the new LG G5 receiving mixed to poor reviews, HTC is next in line to try and dethrone the popular Galaxy lineup, and this year it could actually do it. HTC focused on the design and claims it was made after customer support polls and feedback. Now that it's available from Verizon, Sprint and coming soon to T-Mobile, buyers need to know all about it.
HTC 10 vs M9: Design
New for 2016 the HTC 10 could be the company's best smartphone yet. They've changed the unibody aluminum frame, added a Samsung-like fingerprint scanner to the front, and made both the front and rear cameras excellent. It did sort of lose the dual front speakers, which was something many loved, but it's still there and more than capable.
The HTC One M9 received a lot of criticism for looking identical to the year before it, so this time around it received some subtle changes. It still has HTC's signature design, but better than ever. Gone are the huge bezels on front and all those lines on back. We still have plastic on back for antennas, but it looks far better than before.
The HTC 10 has a bigger 5.2-inch screen with a higher 2k resolution, yet is nearly the same size as the HTC One M9. That's because they got rid of the bezel, logo and speakers. Don't worry though, the sound is still very good.
Another area that was improved for 2016 is those speakers were replaced with a Samsung-like fingerprint scanner for improved security and easy mobile payments. Giving users another feature, easier methods to protect or unlock the phone, and doubling as a home button.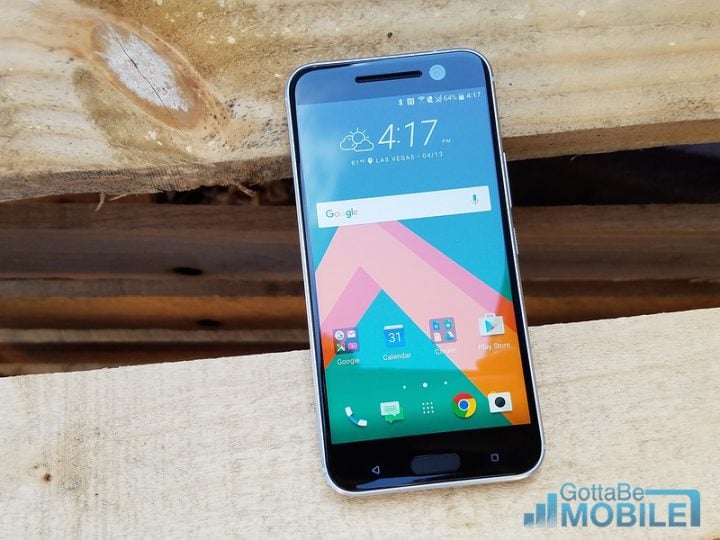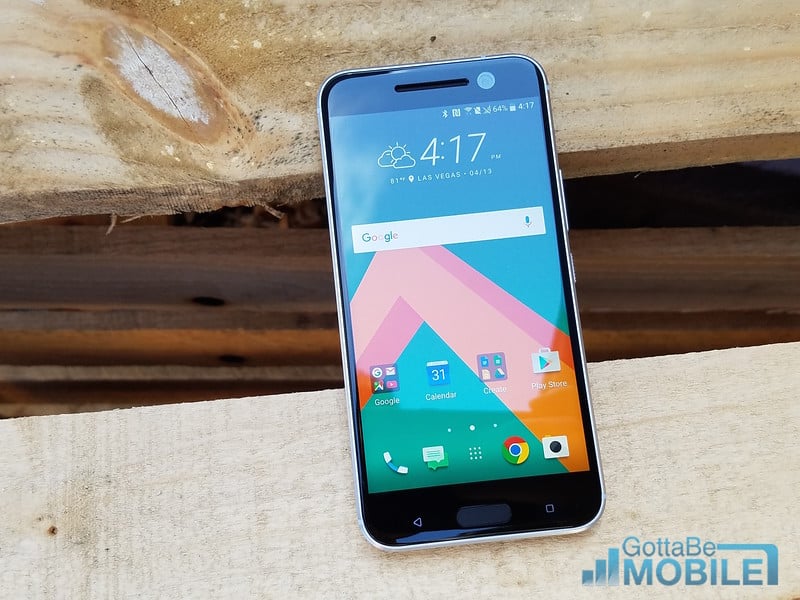 And while those speakers appear to be gone, we still have a dual speaker setup. HTC put a tweeter for the highs of any sound in the earpiece up top and a woofer for the lows down by the new USB Type-C charging port. Both have dedicated amps for powerful sound output. Meaning the HTC 10 has a better design, more features, a new USB Type-C charging port and more in nearly the same package. It's just better in every way, including the software, which we'll talk about below.
As we can see nearly everything else remains similar. With a nice all metal frame, big camera on the front and back (which are both better) and small refinements here and there. Some don't like the large chamfered bezel on the back on the HTC 10, but it looks far better in person than in photos.
Other than the things above we have a similar design with power and volume keys on the side, a micro-SD and a SIM card slot. One notable thing missing is the IR Blaster that doubles as a remote control. HTC One M9 owners used it often, but it was removed on the 10.
HTC 10 vs One M9: Display
For years the HTC One series has had slightly smaller screens than most of the competition. Starting out at 4.7-inches, then 5-inches for the last two years. They also stuck to 1920 x 1080p Full HD resolution, and claimed it helped battery life. All while their phones still didn't last as long as the competition.
The HTC One M9 had a 5-inch 1080p display and average battery life. In 2016 though, the new HTC 10 has a bigger 5.15 (5.2 on paper) Quad-HD display with a 2560 x 1440 resolution and S-LCD 5 display. Nearly matching the Galaxy S7.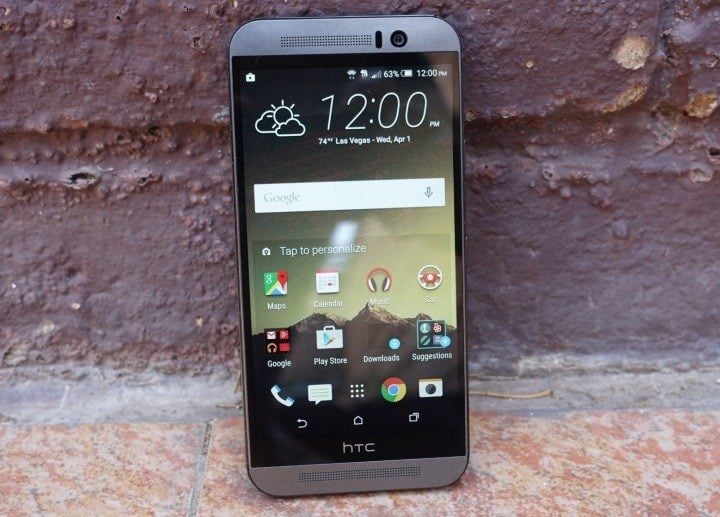 The HTC 10 has one of the better displays we've ever used. It doesn't have the super vivid colors of a Samsung, but it isn't washed out or poor quality like the LG G5. It has a good well-balanced set of colors, whites, blacks and viewing angles. White looks white, not blueish green.
Read: Best HTC 10 Cases & Covers
Cutting down on the bezel size, HTC logo and speakers allowed for a bigger better screen in the same size as the HTC One M9. Meaning those thinking about upgrading won't have to worry about holding a bigger phone, but will enjoy a bigger and better screen from the HTC 10.
HTC 10 vs One M9: Specs
Here's where things really change even more. Specs, battery life, the camera, and blazing fast charging speeds. Both phones are flagship devices and very powerful, but obviously being newer the HTC 10 brings more to the table. Here are the numbers for those interested. Take note of the camera and battery areas.
HTC 10 Specs

5.2-inch 2560 x 1440 Quad-HD SLCD5 Display
Snapdragon 820 Processor with 4GB of RAM
32-64GB of internal storage, with a micro-SD slot (up to 200GB)
Android 6.0.1 Marshmallow with Sense UI 8
12 Megapixel "UltraPixel" camera with OIS, laser auto-focus, f/1.8 aperture & more.
5MP front camera, f/1.8, OIS and more
Fingerprint Scanner similar to the Samsung Galaxy S7 (and HTC One A9)
3,000 mAh battery for all-day usage, Quick Charge 3.0 Rapid Charging
32-bit Hi-Fi BoomSound Speakers (top front and bottom)
USB Type-C Charging Port
Aluminum Design
As you can see that's a pretty big list of details. The HTC 10 matches Samsung on absolutely everything, except for wireless charging, and clearly beats the older HTC One M9.
The HTC 10 supports Quick Charge 3.0 technology. The HTC 10 can charge from 0-80% in 35 minutes, while the older M9 only recharges from 0-50% in about 25 minutes, and takes nearly 95-100 minutes to fully recharge. The HTC 10 gets to 100% in 75 minutes.
HTC One M9 Specs

5-inch 1920 x 1080p Full HD S-LCD3 Display
8-core Snapdragon 810 processor (64-bit)
3GB of RAM
32GB of internal storage and a micro-SD slot for expansion
20.7 MP rear facing camera and 4 Ultrapixel front shooter
Android 5.0.1 Lollipop and HTC Sense UI 7.0 (Updated to Android 6.0)
Dual HTC Boomsound Speakers with Dolby 5.1 Audio Technology
2,860 mAh battery
Infrared Blaster for remote control
Brushed Aluminum unibody design
more
A few things potential buyers will instantly noticed but needs to be explained is the camera, processor, and battery. The new 10 recharges faster and lasts longer, and both the camera and processor are better too, even if they don't appear to be.
Then we have the 8-core processor and 3GB of RAM in the One M9, and now only a Quad-core processor in the new HTC 10. The Quad-core processor (Snapdragon 820) and 4GB of RAM this year outperforms the older 8-core chip in every area. Faster, better, more efficient, good for gaming and more. We don't need 8-cores working, and everyone has realized that. Just know the battery, camera, and processor are all better this year with the HTC 19.
HTC 10 vs One M9: Camera
The original HTC One had an "UltraPixel" camera with a huge sensor, but it was ahead of its time. Eventually HTC ditched that plan and went to a large 20.7 megapixel camera in the HTC One M9. However, more megapixels doesn't mean better.
Now Samsung, Apple, Google and HTC have all went down to 12 megapixel camaras, but they're far better than older 16-20 megapixel lenses. The 10 takes great photos, 4k video, and reviews suggest it has the best camera on any smartphone. Only losing to the Galaxy S7 in low light. The bigger sensor is faster, captures more light in less time, and has a fast auto-focus too. The size of the photo isn't as good, but no one needs to print 5-7ft photos taken out of their camera, either.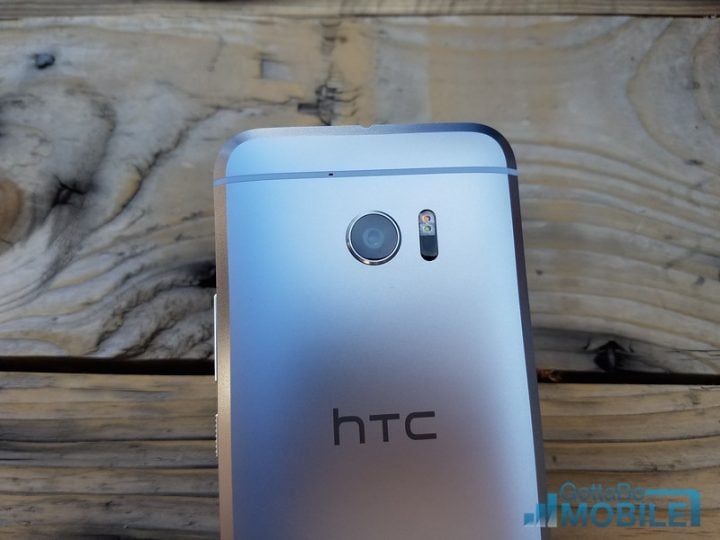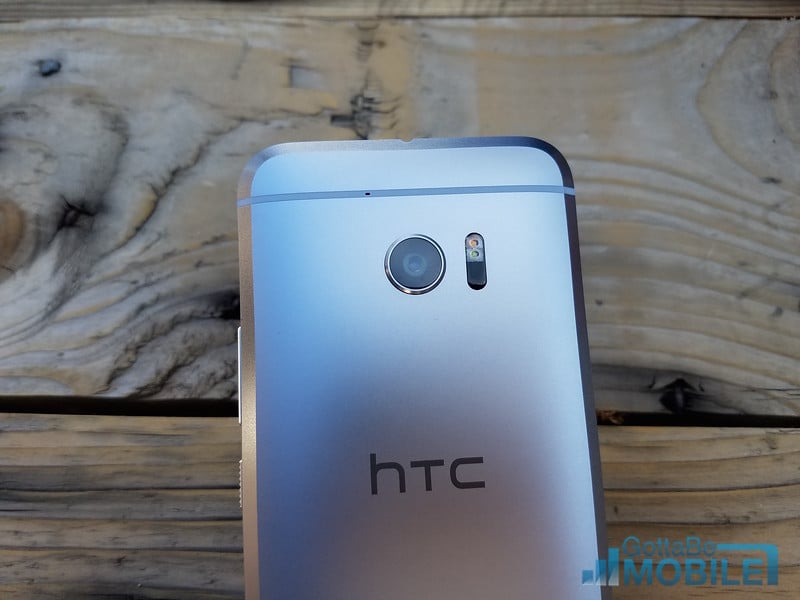 HTC did away with the dual camera setup, they didn't add a huge 20.7 megapixel camera. Instead went back to their roots and delivered a quality 12 Ultrapixel camera with a fast focus and optical image stabilization. It's a great camera, and will take consistently better photos than the older One M9. The front camera is better too.
HTC 10 vs One M9: Software
Here is another area where things get interesting. HTC has always added a user interface called HTC Sense over stock Android. Some love it, but more dislike it. Simply changing things just to do so, and differentiate themselves from other phones. Samsung does this as well.
Read: How to Add Always On Display to the HTC 10
The HTC One M9 had Sense UI 7.0 over Android 5.1 Lollipop, and it wasn't all that great. Many enjoy HTC Blinkfeed, but the rest is unnecessary. In 2016 the HTC 10 is closer to a Motorola phone, running nearly stock Android 6.0.1 Marshmallow with HTC Sense extras added in. Adding features rather than distorting the entire experience.
This results in less bloatware, less duplicate apps and faster software updates in the future. The HTC One M9 just got Android 6.0 from two carriers in the US this week, when it was released in October. That's over 7 months of waiting. The HTC 10 won't have that problem. It also doesn't have two calendars, two email apps, two messaging apps, two photo galleries and all of that. Instead HTC is using Google's pre-installed apps, then improving on it with small changes like HTC Blinkfeed, themes for customization and other things. It's a good choice, and something many are excited to see.
Getting the HTC 10 will deliver the latest version of Android, clean without a lot of added junk, quick updates and smooth performance.
HTC 10 Release Date & Price
This year the HTC 10 has a lot going for it. From an improved design, bigger display, great speakers, micro-SD slot, fingerprint scanner and all the latest and greatest specs and hardware. As a result, it costs a little more. Many can find the HTC One M9 used or discounted from carriers, but the information above should have most considering the HTC 10 instead.
Starting on May 5th the HTC 10 was available in the US from Verizon Wireless, May 13th from Sprint, and May 18th from T-Mobile. This year AT&T isn't offering it, but it can be bought unlocked for use on AT&T or T-Mobile through HTC.com for those interested.
The HTC 10 is between $21-28 a month for 24 months, $629-$679 outright, or $199 with a new 2-year contract. Similar pricing will be found for the HTC One M9 if carriers still have it. However, this is about upgrades. Those with the older HTC One M8 or M9 should consider using their annual upgrade on the HTC 10, or swapping it out. It is better in almost every way, brings plenty to the table, and is only missing an IR blaster that many don't use. The HTC 10 looks to be one of the best phones of 2016, and will be supported with updates for longer too.

As an Amazon Associate I earn from qualifying purchases.