HTC Entices Users To Sense 3.5 With 3GB Extra Free Dropbox Storage
According to Pocket Lint, HTC today confirmed that they've made a deal with Dropbox that gives customers who buy a phone with HTC Sense 3.5 an extra 3GB of storage space on top of the 2GB every Dropbox user gets for free. This includes the HTC Rhyme, which just made its debut earlier this week and goes on sale September 29th at Verizon.
It's unclear whether existing Dropbox customers will get the extra 3GB, but it could be possible if there's a special version of Dropbox included with the phones in question and the extra space is tied to that. Given that Dropbox also offers users a way to earn extra space by going through tutorials and referring friends, Rhyme owners could end up with 10GB of free cloud storage — sweet!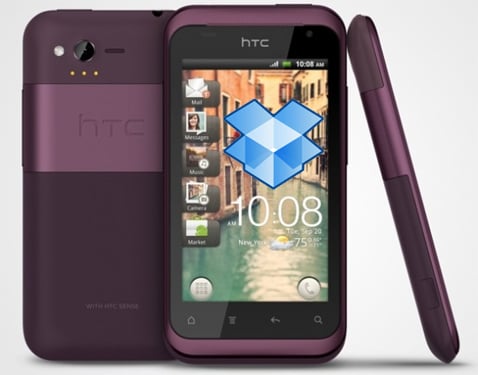 Dropbox allows users to sync files to any device with the software or app installed. It makes sending photos from your phone to your computer easy by doing it automatically. Plus, you can share files and folders with friends from the app or from the web interface. Since Dropbox doesn't put limits on files sizes (unlike Microsoft SkyDrive), users can even sync the videos they record.
This move isn't surprising since HTC heavily emphasized content creation and sharing at the Rhyme's launch event this week. For instance, owners will be able to make quick edits to photos before sending them to social networks or Dropbox. And with 5GB of space, users can store quite a few pictures.
Though the Rhyme is currently the only Sense 3.5 device, other phones should be coming soon.

As an Amazon Associate I earn from qualifying purchases.