HTC Allows Prospective HTC One Owners to Begin Device Set-Up Before Phone Arrives
HTC has created a web portal to allow prospective owners of the HTC One smartphone to begin the set-up process of their new smartphone even before receiving the phone. The HTC Get Started portal will allow prospective owners of the HTC One to customize various aspects of their devices, including choosing wallpapers and lockscreens, setting up emails and passwords, and adding your Dropbox credentials.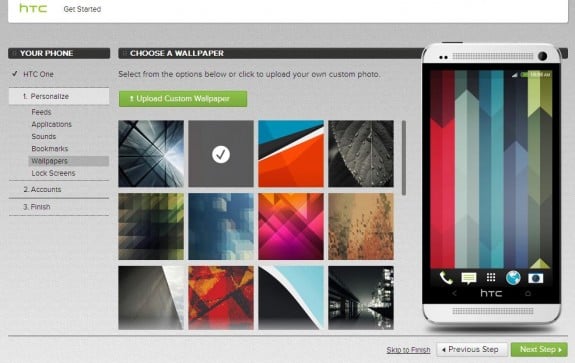 As manufacturers like Apple are beginning to see the smartphone and tablet as the sole device that users use, HTC's 'tethered' approach to device setup is a welcomed change as it offers a lot more flexibility. For one, using the web portal to set-up the HTC One with your PC or Mac allows you to use your computer's keyboard to tap at passwords and log-in credentials. Secondly, you can choose to even upload your favorite images and photos for your wallpaper and lockscreen image. This is actually a lot simpler than emailing said images to yourself and saving them to your phone, or even connecting your phone via USB to your PC to transfer the images over.
Additionally, this will help prospective owners get through setting up their device so that when their HTC One smartphone arrives, it will have all the proper presets available. Once you open the box, you're up and running rather than tapping through several different screens to try to setup your phone.
According to the web portal, you can setup the HTC One in the U.S. for carriers Cincinnati Bell, Sprint, T-Mobile, and the unlocked HTC One. While carrier AT&T has announced that it would offer the HTC One in the U.S., the portal does not seem to include pre-set-up for AT&T's edition of the smartphone.
Accessories have begun appearing for the phone, which has yet to go on sale in the U.S. For those interested in the HTC One, it is advised that you pre-order if possible when that option is available as analysts warn there could be shortages.

This article may contain affiliate links. Click here for more details.