HTC Announces Event For September 19, Likely For Windows Phone 8
As expected, HTC will hold an event later this month on September 19 for what it likely its lineup of Windows Phone 8 devices.
According to Engadget HTC sent out the invite shortly after Apple sent out the invite for its September 12 iPhone 5 event. HTC will hold its event at 11 a.m. in New York City.
HTC's invite doesn't outright say the announcement is for Windows Phone 8 devices, but previous rumors said the company will announce its devices with Microsoft's new OS later this month. The symbol at the bottom of the announcement also looks somewhat reminiscent of the Metro design of the platform. It's at least unlike anything from Android.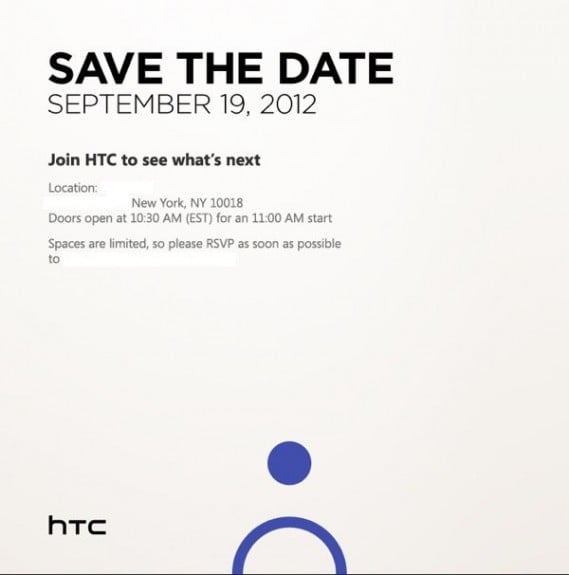 Rumors say HTC has a trio of phones planned for Windows Phone 8 carrying the code-names of "Zenith," Accord," and "Rio." The design of the Accord recently leaked as a schematic. The Accord if the mid-range phone of the trio, the Zenith is the high-end model, and the Rio is the low-end.
While the collection of three phones reminds us of the company's One lineup of Android phones, the phones won't look the same as the Android devices. The Zenith and Accord will likely have dual-core processors and screens measuring more than 4 inches. The Zenith will likely have a 4.7-inch screen like the One X, and the Accord will likely have a 4.3-inch display. Both displays will be at least 720p.
After HTC makes its announcement the only manufacturer left to announce Windows Phone 8 devices will be Huawei. Samsung already announced its new ATIV S smartphone, and Nokia will announce its new Lumia 920 with PureView and Lumia 820 tomorrow.

As an Amazon Associate I earn from qualifying purchases.