HTC Announces Windows Phone 8X For November Release
HTC's 8X is finally official with a slightly different name than we originally thought: Windows Phone 8X by HTC.
The new Windows Phone 8X by HTC is HTC's flagship Windows Phone 8 device and it looks so nice that Microsoft even let HTC put Windows Phone 8 in the phone's title. The Windows Phone 8X has a 4.3-inch 720p display, and uses a dual-core 1.5GHz Snapdragon S4 processor.
Like HTC's recent One lineup of Android phones the Windows Phone 8X features Beats audio for enhanced sound.
The phone also features the ImageChip used in those phones so it should produce excellent photos and video with its 8MP rear-facing camera. The camera features a back-side illuminated sensor, an f/2.0 aperture, and a 28mm lens. It can also shoot 1080p video with stereo sound.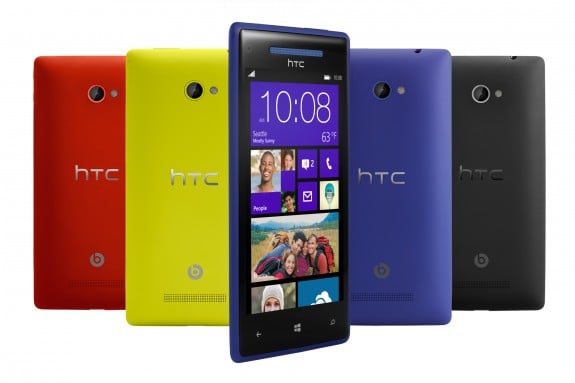 The front facing camera can also shoot 1080p video and take advantage of the ImageChip. The front-facing camera is 2.1MP and it has an ultra-wide-angle (88°) lens to capture more people in every frame.
Unlike HTC's One series of phones, the WIndows Phone 8X comes in a variety of colors. Those colors include purple, red, yellow, and black. The phone's feature a sleek unibody design that manages to look unique while also maintaining a thin profile of just 10.12mm.
The Windows Phone 8X by HTC will release in November and could come to AT&T, T-Mobile, and Verizon in the U.S.
Unfortunately we don't know the price, and the exact release date will have to wait until Microsoft announces the release date of Windows Phone 8. The company will likely hold an event on October 29 to make that announcement.
https://www.youtube.com/watch?v=MgJC91D9qlY

As an Amazon Associate I earn from qualifying purchases.