HTC Announces Mid-Range Windows Phone 8S
Following the naming convention of the One Line HTC's new mid-range Windows Phone is the Windows Phone 8S.
The new Windows Phone 8S is the mid-range sibling to the Windows Phone 8X. The Windows Phone 8S has a smaller 4-inch display with a WVGA (800×480) resolution, and uses a slower 1GHz dual-core Snapdragon S4 processor.
HTC's Windows Phone 8S still features Beats audio for enhanced sound and the ImageChip for photos. The rear-facing camera in the 8S has a 5Mp sensor that can shoot 720p video, just like the camera in the HTC One S. If the camera works as well as the on in the One S it will take great photos, though not as great as high-end phones.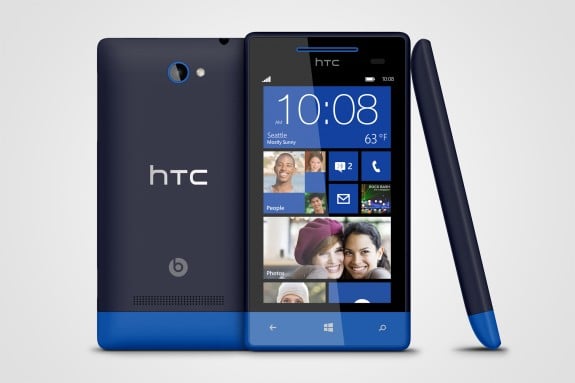 The Windows Phone 8S has 4GB of storage space, 512MB of RAM, and a 1700mAh battery.
Like other recent Windows Phone 8 device the 8S has a unique design and color scheme that's different from other phones. The 8S feature a "three-dimensional, uni-body style" design that HTC based off the Windows Phone 8 Live Tiles.
The result is a sleek design with two colors, one main color for the back and an accent for the bottom row of icons. The Windows Phone 8S comes in navy and light blue; black and white; gray and neon yellow; as well as red and orange-red. Press images of the color combinations are in the gallery below.
Windows Phone 8S by HTC will release sometime in November on AT&T, T-Mobile, and Verizon.
Unfortunately we don't know the price, and the exact release date will have to wait until Microsoft announces the release date of Windows Phone 8. The company will likely hold an event on October 29 to make that announcement.
https://www.youtube.com/watch?v=MgJC91D9qlY

As an Amazon Associate I earn from qualifying purchases.