HTC Athena UMPC at CES? Sorry…not here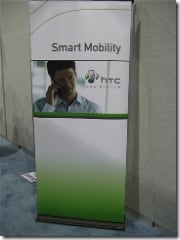 Well, Matt and I were disappointed when we were finally able to meetup with the HTC folks, hoping for some news and views of the HTC Athena, only to find out that all they had on hand were phone devices.
Dave Hanon, HTC's account rep, did share with us that they expect to ship a UMPC in 2007, but wouldn't offer any more details. They have added us to their review list, so hopefully we'll have something to share with you on an InkShow when they start shipping.

As an Amazon Associate I earn from qualifying purchases.