HTC Confirms Windows Phone Tango with Triumph in China
HTC is slated to launch the HTC Triumph, a variant of the HTC Titan, for the Chinese market. Though the Triumph will just be a re-badged hardware offering of a device that's been available for some time now on AT&T's 4G HSPA+ network with a massive 4.7-inch display, the device will be among the first to usher in Windows Phone Tango, the Microsoft mobile OS to follow after the Mango release.
While Tango is supposed to eliminate high-end requirements to allow manufacturers like HTC and Nokia to begin offering more budget-friendly models to compete against Android, the release of the Triumph in China is a bit curious as the device costs nearly $700. That said, the Triumph, with its Tango-backed OS, will allow HTC to localize the phone to use Chinese Internet services, rather than the Bing, Facebook, and Twitter integration found on releases in the U.S. and other parts of the world. Instead, the phone will utilize services like Sina Weibo, Tencent Wixin, and SkyDrive that follows local Chinese laws.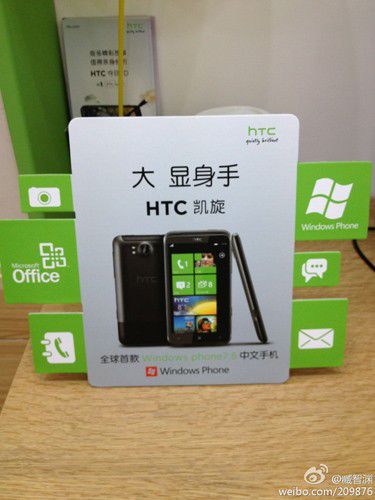 Given the new support for localized services, the HTC Triumph may be the first Windows Phone device to be introduced in China as the country has different rules for Internet privacy and censorship that phone created for elsewhere in the world would most likely not be subject to.
While Tango does usher in some new features, the next version of Windows Phone, known as Apollo, will be the next major revision of the platform and is expected to bring in new features. Apollo is rumored to arrive as Windows Phone 8.
Via: Engadget

As an Amazon Associate I earn from qualifying purchases.