HTC EVO 3D Features Confirmed Ahead Of CTIA Launch
It appears that the true successor to the original HTC EVO 4G, the HTC EVO 3D, will definitely be announced at CTIA and from the looks of things, it has a chance to be the star of the show.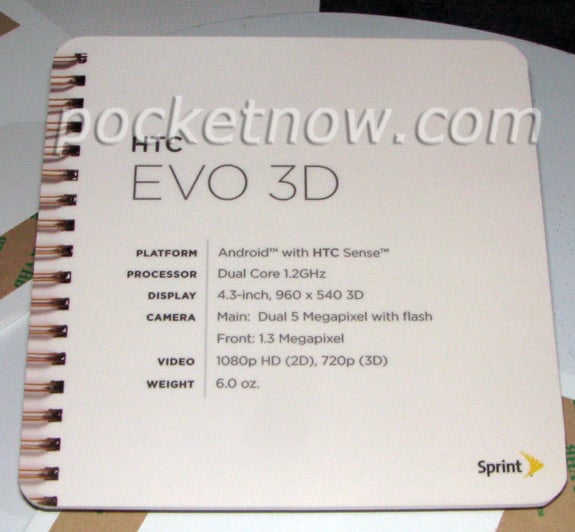 The EVO 3D has been rumored for weeks now, so it should come as no surprise that Sprint will be making this announcement at their lengthy 2 1/2 hour CTIA press conference. If you've been following along, then you probably have seen these specifications before but, they have never been this close to being official.
Pocketnow somehow scored some photos of what appears to be an official spec listing for Sprint's EVO 3D. On the placard we can clearly see that the device is going to be coming with a host of amazing features including a 4.3 inch qHD display with 960 x 540 resolution along with support for 3D, dual 5 mega pixel rear cameras with flash, and a front facing 1.3 mega pixel shooter. The rear camera will be capable of taking 1080p video and 720p 3D video.
It will also employ a 1.2 GHz dual-core processor and will weigh 6 ounces.
No release date or pricing was visible but luckily we will only have to wait until tomorrow to find out those details for sure.
The report also confirms some of the specifications of Sprint's HTC EVO View 4G which will be their version of the HTC Flyer tablet that the company launched back in February at the Mobile World Congress.
Sprint's EVO View 4G will come equipped with a display featuring 1024×600 resolution, a rear 5 mega pixel camera, a 1.3 mega pixel front facing camera, along with a 1.5 GHz processor.

As an Amazon Associate I earn from qualifying purchases.