HTC EVO 3D Smartphone Stops A Bullet, Saves Store Clerk's Life
The now extremely proud owner of an HTC EVO 3D smartphone can happily say the phone may have saved his life, as this week we've learned a recent robbery went south after a store clerk was shot. However, the good news is his trusty and aluminum EVO 3D smartphone reportedly stopped the bullet, and saved his life.
Today according to CNN a gas station clerk in Winter Garden, Florida, was shot in what appears to be a robbery attempt. Hoping he'd open the safe for thieves and failing, they fired off a single round as they cowardly left the establishment. After complaints of chest pains the man and crew quickly learned that he'd actually been shot in the chest, and his smartphone stopped the bullet, giving him a second chance at life.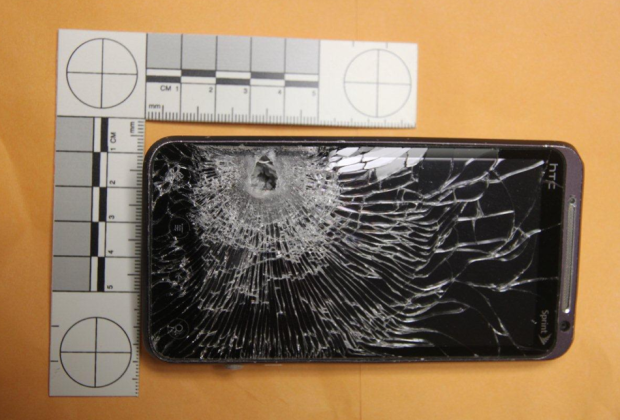 The Gas station employee was complaining of chest pains, which is expected considering he was shot in the chest, and lucky the phone was sitting in his shirt pocket, or else this would be a completely different story. It's always nice when we can report a good warming news story regarding mobile, or Android, instead of the usual lawsuits or rumored release dates. This one is a keeper!
Luckily for this store clerk the low-power revolver wasn't strong enough to penetrate through a smartphone, and the battery, as the image above and below show where it hit the device and stopped. His life was saved, but that smartphones shattered screen and exploded battery will need to be replaced.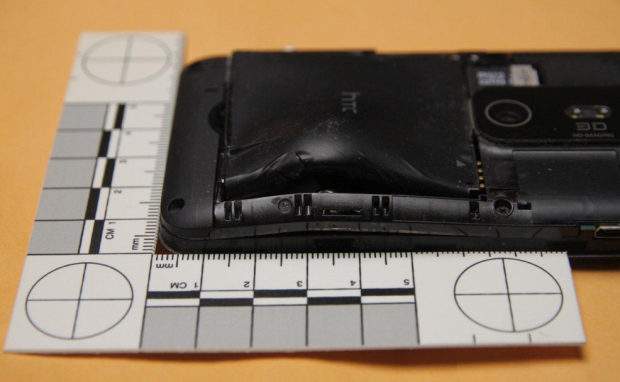 It's being reported that this Florida man just received a second chance at life, and was quickly released and suffered no major injuries aside from the chest pains being reported earlier in the evening. Authorities aren't disclosing the name of the clerk who was shot, but it appears that the smartphone manufacturer, HTC, figured it out and were nice enough to replace that life-saving smartphone with a brand new one.
According to the HTC Twitter account, he's been sent a brand new HTC One smartphone and a "Glad you're OK" care package with a new smartphone, case, car dock, coffee mug and HTC suitcase for good measure.
It's nice to see an awesome and happy ending such as this, but we've seen horror stories in the past that didn't turn out the same. Earlier this year reports of an HTC smartphone exploding in a woman's pants left her burnt, and even branded from the burns with the HTC logo. We're just glad to hear this fellow is ok, and that the smartphone may have saved his life.

As an Amazon Associate I earn from qualifying purchases.