HTC EVO 4G Gingerbread Update Coming June 6th?
Don't look now HTC EVO 4G owners but it looks like your upgrade to Android 2.3 Gingerbread is just around the corner as new evidence suggests that the update will be rolling out next Monday, June 6th.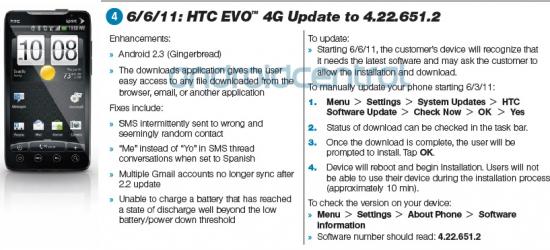 As is the case with many of these dates, they are subject to change at a moments notice, but this date is backed up with some pretty good and thorough evidence which isn't always the case. It's also likely that HTC wants to keep up with the competition and now that the Droid X has received its update to Android 2.3, it makes sense that Sprint and HTC would want to keep its owners happy.
Last we heard, the EVO 4G Gingerbread update was going to roll out sometime during Q2 and it just so happens that June is the last month of the quarter adding some more credibility to the date.
Along with the features coming along with Gingerbread, the update will apparently fix that nasty SMS bug, Spanish translations in SMS, gmail syncing, and last but not least the problem where owners couldn't seem to charge their battery after letting it run out.
All in all, June is shaping up to be a big month for the EVO brand as Sprint is not only preparing for this update but it's also going to be rolling out the next EVO smartphone, the HTC EVO 3D.
Via: Android Central
Update: It looks like manual installations will begin June 3rd.

As an Amazon Associate I earn from qualifying purchases.