HTC EVO named the hottest of the hotspot phones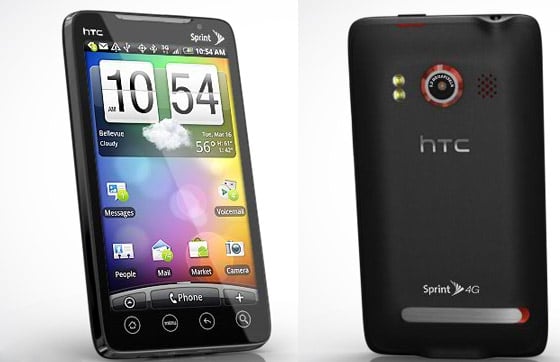 You might be saying to yourselves, "well duh, the HTC EVO is the fastest smartphone with hotspot access: it's on 4G". True, but it wasn't the only 4G phone tested by LAPTOP Magazine, nor is it dominating only on 4G. Also: it seems the newest DROIDs aren't necessarily the fastest.
LAPTOP Magazine pitted six smartphones against each other in a test of their capabilities as mobile hotspots. On the Verizon side, there were the Motorola DROID X, Motorola DROID 2, HTC DROID Incredible, and Samsung Fascinate. On the Sprint side were the HTC Evo 4G and Samsung Epic 4G. Neither AT&T nor T-Mobile offer mobile hotspots (not as easy to implement on GSM?). Obviously the 4G results should beat the 3G results, so they split out the Sprint testing by 3G and 4G.
In terms of sheer data, the HTC EVO trounced the competition with a healthy download speed of 5.09Mbps over 4G. Surprisingly, the Samsung Epic clocked in much closer to the 3G competitors at only 2.614Mbps on 4G, while delivering slightly better upload speed at just under 1Mbps compared to the EVO's .88Mbps. However, while their performance over 3G was competitive on the download side, uploading topped out just under 0.15Mbps compared to the 0.3-0.7 range by the Verizon phones.
For 3G-only performance, the DROID Incredible delivered startlingly better download and upload speeds than its newer DROID brethren, while the DROID 2 offered the snappiest delivery of websites. The Incredible was not too far behind on the website performance, so it is best overall of Verizon's bunch. For the full results and crunchy numbers, check out LAPTOP Magazine's blog.
Fueling the conversation was this tweet from James Kendrick:
Side-by-side 3G speed test, Sprint EVO vs. Sprint Overdrive. EVO blows Overdrive away. (did 5 tests)
Presumably the Overdrive is on the left and the EVO on the right. One hotspot phone and one dedicated mobile hotspot on the same 3G network, yet the dedicated device delivered about a third the raw data of the converged device. Obviously speed isn't all about the network. Results like this are not a good sign for dedicated hotspot devices, which were already starting to look obsolete.

As an Amazon Associate I earn from qualifying purchases.