HTC EVO Shift 4G is the HTC Knight: Android Slider Phone for Sprint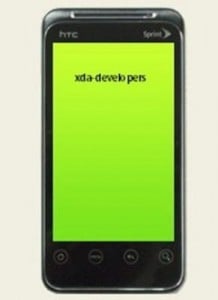 It looks like the HTC EVO Shift 4G that we had reported on earlier could in fact be the final product name to an HTC device that was codenamed the HTC Knight. The device is said now to have a smaller 3.7-inch display, down from the 4.3-inch of the original HTC EVO 4G currently available on Sprint, and come with a landscape-oriented sliding keyboard. The screen size and form factor could imply that this is a WiMax 4G-enabled phone that Sprint will carry as a rival to both the T-Mobile G2, also made by HTC in the U.S. and known as the Desire Z internationally, and the forthcoming HTC Merge, which will be a CDMA phone on Verizon Wireless with a world phone radio thrown in for global travelers; the Merge is expected to debut at a launch party thrown by HTC and Verizon Wireless in Seattle on Thursday evening.
Additionally, it seems that the HTC EVO Shift 4G lacks a front-facing camera, though the final version may include such a camera considering that Apple has been highly promoting FaceTime video chat and T-Mobile is touting that its myTouch 4G can do video calls over the carrier's "4G" network. The exclusion of a front-facing camera could be possible as the T-Mobile G2 also lacks the camera in favor of the keyboard while the myTouch 4G, also made by HTC for T-Mobile USA, includes the camera foregoing the keyboard.
On Sprint, the original HTC EVO 4G and the Epic 4G are both popular devices and consumers have found the novelty of a front-facing camera as a nice feature. However, use of those cameras require additional support from apps such as Yahoo! Messenger, Qik, and Fring for video chat and the experience is not as straightforward as on Apple's iPhone 4 as the mentioned third-party apps would need to be downloaded, installed, and registered with a username or email account.
However, if the specs are on-par with T-Mobile's G2 hardware, it will be interesting to compare mobile broadband speeds between the HTC EVO Shift 4G with the T-Mobile G2, as both devices are marketed by their respective carriers as "4G" devices. For its part, 4G from Sprint means utilizing the carrier's growing WiMax network while on T-Mobile, the carrier is promoting the faster 3G network using the HSPA+ protocol as having "4G" speeds.
Video Below: HTC EVO 4G Demo:

Via: Engadget

As an Amazon Associate I earn from qualifying purchases.