HTC Fireball Appears Headed to Verizon's 4G LTE Network
Just in case you needed another 4G LTE option at Verizon, a device called the HTC Fireball has shown up today in the carrier's system with little else besides a name, a model number and '4G' sitting right beside it. Right now, the device remains a complete and utter mystery but there are a couple of things we can theorize from Verizon's internal listing here.
The first, as Droid-Life points out, it would appear that the HTC Fireball has a model number that rests between those of the HTC ThunderBolt and the HTC Rezound.
HTC's ThunderBolt is ADR6400, the HTC Rezound is ADR6425 and as you can see, the HTC Fireball is listed here as ADR6410. So what does this mean exactly?
Well, it could mean that the device has specifications that sit between the now low-end ThunderBolt and the high-end HTC Rezound. Maybe a 4G LTE device with a slide-out keyboard that could do battle with the Motorola Droid 4, another QWERTY slider that could hit Verizon's network as soon as December 22nd.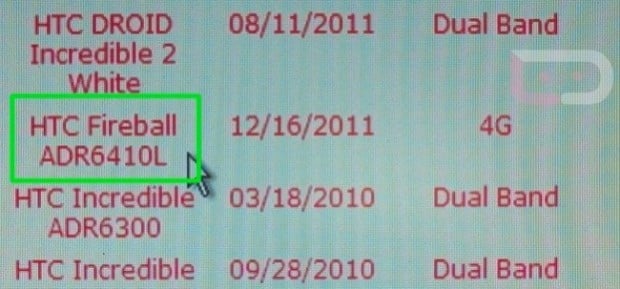 HTC would be smart to put out an offering to compete with Motorola's 4G device and it's possible that the Fireball could be that device. So, maybe we'll see some kind of 4G LTE powered device that resembles the HTC Merge, a device that sort of-kind of launched on Verizon back in May of this year.
We'll keep an eye out for anything Fireball related but we wouldn't expect anything to happen until CES at the very earliest.

This article may contain affiliate links. Click here for more details.