HTC Flyer Review: Wrap-up + Shortcut Video
My time with the HTC Flyer has come to an end, and my extended live and un-live review goes with it. It's not a perfect device by any means, but overall I found it quite good, and I see many ways it could be truly great.

A Quick Look at the Interface
Before I get into the wrap-up, here's a quick look at the Flyer's interface without the pen.
Click here for the iPhone/iPad friendly m4v videos in SD and HD 720 formats.
[For all the parts of this ongoing review of the HTC Flyer, click here.]
Actual vs. Potential
Going into my review, I was looking at the Flyer in two ways. First, as a mobile device being used as is, in the moment. I had one day to get familiar with it then literally put it to work, on-the-job in San Antonio, as seen in my live review. I also looked at it as the test model of HTC's plan for pen input on Android tablets. Their next, called the Puccini, should already be in production. They intend to release an SDK for developers to build their own pen-based apps. There's no way I could look at the Flyer and not think about the line of pen tablets to follow.
With that in mind, while I can imagine what the future holds, I can only review the device in hand. From that angle, from that direction, I have to say the Flyer is a tablet with definite appeal, but primarily for folks already shopping for this form factor and/or interested in pen input. If you want a tablet to break the gravity of the black hole in the room, this isn't it.
Where It Flies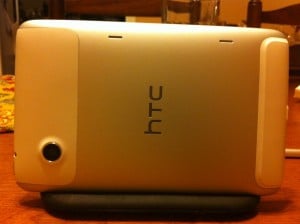 I don't have much to add about the performance that I haven't already said or shown. I was impressed with the speed and mobility of the Flyer. It smoothly recorded and reviewed 720p HD video, while a desktop with Intel Core 2 Duo processor chugged through displaying some of those same clips. While the ink was a bit choppy, touch control was very snappy and responsive. I also enjoyed being able to pocket the device (in my gadget satchel) and carry it comfortably all day, for which the battery was more than adequate.
Operating the Flyer was a snap too. There's a brief tutorial on how to use the pen. After that, you're ready to go. The pen does what it's supposed to do. The Sense interface just works. HTC did an excellent job of making this thing user-friendly.
Where It Glides
I think I covered the drawbacks of the Flyer pretty thoroughly throughout my review, and especially in my look at the "rough edges". On top of that, there is the fact that Android 2.3 runs apps that are designed for phones, not tablets, resulting in an ill fit for the apps I installed, particularly in landscape mode.
The Flyer has a microSD card slot for expanding storage, but popping off the top panel to access it makes it more of an upgradeable system than a swappable one. Far easier to access the card data via the micro-USB port. Powering down or switching to airplane mode can be done by holding down the power button, but only after the device is unlocked.
Where It Crashes
While nothing about the Flyer struck me as horrible, if it has any concrete problems, it's the price. It matches the entry-level iPad at under $500, but at roughly half the footprint, it looks like you're getting half as much device. I know it's not a fair comparison, but perception isn't always fair, and I found myself trying to justify the price to people more often than I would have liked. And that doesn't count the sometimes $80 pen. I'm hardly unbiased on this subject, but I believe the pen is the top selling point of the Flyer experience. Without it, it just doesn't stand out from the Android tablet pack.
Aside from that, the Flyer feels as if it's incomplete at this point. Being limited to Wi-Fi is a problem if you don't employ a mobile hotspot solution, but that's due to it being so mobile that it's easy to take anywhere. The lack of a place to hold the pen is also an issue, as is the pen's general existence as an add-on. I found myself saying "I need to add this" or "I really hope they update that" a lot. Most solutions are easy to implement, but when I'm always seeing points for improvement, that means there's much that needs improving.
Closing
Again, it comes down to actual vs. potential. The Flyer's pen features are easy to use because they are focused on a few tasks. The paneled interface is a snap, but I found it less useful than I'd expected. The potential for improvement and expansion is there, and I can see where it can go. Until it gets there, the Flyer sort of stands in the shadow of its future self.
What's promising is that, aside from connectivity and pen integration, the drawbacks I encountered are primarily on the software side. The hardware is solid. The processor is single core, but it trucks. The display, while hard to see in daylight, is vivid and has active pen input. The device as a whole feels sturdy and able to survive a few years of use. I am confident the hardware can keep up with future software improvements and the promised upgrade to Android 3.x.
It's up to the buyer to decide if they want to settle with the current limitations and wait for those updates to trickle in, or hold off until the software is further along (and perhaps get a model with updated hardware too). While some people will be more than happy with the Flyer as is, that's the overall purchase proposition I see with this device. The Flyer is a good tablet that may yet be great, emphasis on "yet".

As an Amazon Associate I earn from qualifying purchases.