HTC Flyer Shipping with a Digital Pen…Unless You Buy from Best Buy!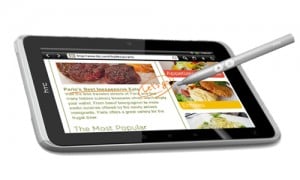 Adam had delivered the unfortunate news that the HTC Flyer Android tablet digital pen will be retailing for $80 at Best Buy yesterday and HTC has confirmed that its tablets that are being sold at Best Buy will be shipping without the pen. This may suggest that HTC may have several different SKUs for the HTC Flyer, some with and some without the pen.
The HTC Flyer will be the first Android tablet to take advantage of the active digitizer technology to try and blur the lines between traditional Windows-based Tablet PCs and consumer tablets like the iPad and the Xoom.
Currently, however, there still are not many apps that take advantage of the pen's full capabilities on the Android tablet. The Flyer does come with the ability to quickly take a screenshot and markup images with the digitizer pen, but support is far more limited than on those tablets running Microsoft's full Windows OS. For instance, handwriting recognition isn't supported, and the usefulness of being able to take long notes on a 7-inch screen is still debatable as most traditional tablet PCs still ship with a screen real estate larger than that on the HTC Flyer.
The HTC Flyer will be coming to at least one major U.S. carrier. At the CTIA trade show earlier this year, Sprint and HTC had announced that the HTC Flyer will come with 4G WiMax support for Sprint's network as the HTC EVO View 4G tablet. That tablet will have integrated mobile broadband. The tablet's also rumored to be coming to T-Mobile.
The version of the Flyer tablet that will initially be sold at Best Buy would come without wireless mobile broadband; that edition will be a WiFi-only version.
Via: Engadget

As an Amazon Associate I earn from qualifying purchases.