HTC Ignite Windows Phone 7 Image Leaked, But Specs Seem Dubious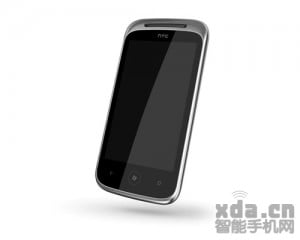 Images for an un-released HTC Ignite have surfaced showing a Windows Phone 7 device that has similar design cues to the HTC Desire HD and the Inspire 4G. The image was provided from Chinese-based website xda.cn and shows a slate-style smartphone with a large touchscreen and three touch buttons on the bottom of the screen that are required for Windows Phone 7 devices.
Not a lot of details are known, still, at this time, though xda.cn did provide some basic specs of the device, including a 3.7-inch WVGA display, Qualcomm CPU clocked at 800 MHz, 512 RAM, and a 5-megapixel camera with autofocus and LED flash. The phone is capable of 7.2 Mbps, though it's unclear what 3G protocol the device will use. What's really dubious is mention of support for a resistive, rather than capacitive touchscreen.
When Microsoft and its partners initially made touchscreen PDAs, which evolved to phones running the Pocket PC or Windows Mobile OS, resistive touchscreen technology was primarily used in conjunction with stylus support. However, with better finger UIs and user experiences that were ushered in with Apple's iconic iPhone, Microsoft and others followed suit to support capacitive touchscreens, which provided better finger recognition but lacked good support, for example, for inking without a fine-tipped stylus. It's unclear why HTC and Microsoft would go back to resistive touchscreens moving forward now that capacitive touchscreens are now standard on many devices and platforms.