HTC is Blogging Now, Their Official Blog is Live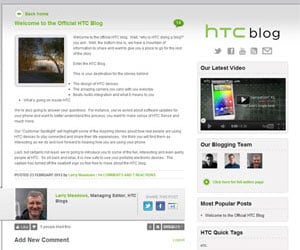 If you happen to check out the HTC job board on occasion, you would have noticed a lot of jobs pop up over the last year for social, community, and so forth. HTC has been hiring good friends of mine and others to build a better social media, community, and support team in the US and abroad. They've launched their own forums and today, a blog. Trust me, HTC isn't done either. There are still unfilled jobs on that board.
I personally believe the forums and blog should have been put into place a long time ago, in fact, there was a time I actually suggested this and offered to help a few years ago.
So, the news today is that HTC has launched their blog. Here's what the Managing Editor, Larry Meadows had to say:
Welcome to the official HTC blog.  Wait, "why is HTC doing a blog?" you ask.  Well, the bottom line is, we have a mountain of information to share and want to give you a place to go for the rest of the story.
This is awesome for HTC. I believe, like Nokia, that this blog could be a great place for HTC to communicate directly with the consumer. HTC already does a bang up job on Facebook and Twitter, so I can imagine this will go along that same path of success.
HTC has been gathering some awesome community guys/gals lately. Jason Gordon, one of the 1st people I met from Microsoft when I was in invited to Mobius in 2005, was hired by HTC a few years ago. Eric Lin, who was snatched up from Phone Scoop where he was reviewing phones, was snatched up shortly after. Horace Luke, an awesome user experience guy, was lured away from Microsoft to join HTC as the Chief Innovations Officer. Jeff Gordon, a PR rep I had dealt with in my Mobilitysite days headed over to HTC. More recently, another good friend of mine, John Starkweather was hired away from Microsoft to lead a team of Social Media monsters. A few months later, one of my best friends in this industry headed over as well, Jason Dunn. Jason Dunn is the guy behind Thoughts Media, a community of sites which includes Pocket PC Thoughts, a site I am sure many of you are familiar with. Good news, Jason is on the blogging team for HTC, which I assume is a collateral duty on top of the projects he's currently working on.
Head over to blog.htc.com and subscribe to their RSS Feed!
While I knew this was coming, thanks goes out to PocketNow for the heads up that it went live.

As an Amazon Associate I earn from qualifying purchases.