HTC Jetstream LTE Tablet Headed to AT&T for $699 On-Contract
We've been waiting for the HTC Puccini tablet to get official for quite sometime now and finally AT&T has coughed up the goods giving us the official name, specifications, pricing, and release date. There's good and bad news here so why don't we start with the good news.
The good news is that AT&T revealed everything and confirmed that the HTC Puccini aka HTC Jetstream is indeed a 4G LTE compatible tablet and it will be available for consumption on September 4th. AT&T's network is in its infancy so many of you picking it up won't have access to 4G LTE speeds for quite some time. Which makes you wonder, why release it on September 4th?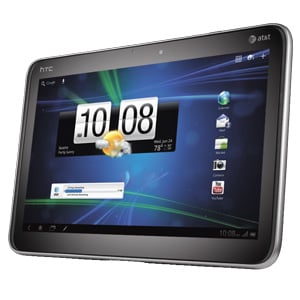 Anyway, the specs are what we figured them to be and the Jetstream is going to feature a 10.1-inch display with HTC Scribe technology, like we've seen on the HTC Flyer tablet, and it will featured a speedy 1.5GHz dual-core processor.
In addition to those, it sports:
LTE (700/AWS)
HSPA+/HSPA/UMTS (850/1900/2100 MHz)
8MP rear camera, 1.3MP front camera
Android 3.1 with HTC Sense
HTC Scribe Pen
So, if you don't have 4G LTE, you'll be able to run it on AT&T's HSPA+ network which is a little bit of a consolation prize. Now, the lack of 4G LTE is probably not the only thing that's going to deter you away from this tablet. I think the pricing will likely handle that.
AT&T is going to be asking for $699 on-c0ntract for this beast. Again, $699 on-contract.
Anyone buying this?