HTC M4 and G2 Rumored to Arrive Shortly After HTC M7 Release
A new leak from Unwired View says that HTC has mid-range and low-end phones ready to release shortly after it launches the upcoming HTC M7.
If the HTC M7 is the successor to the One X from last year, then the rumored M4 and G2 are the equivalent successors to the HTC One S and One V, respectively. The rumored M4 is the mid-range phone, while the G2 would come out as a low-end phone similar to the One V.
According to the leak, HTC intends to portray the M4 as a premium smartphone that's just a step below the M7. It will likely have a 4.3-inch 720p display, as opposed to the 4.7-inch 1080p that's rumored for the M7.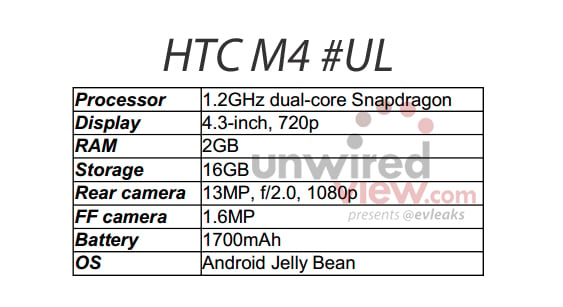 The leak claims the M4 will use a 1.2GHz dual-core Snapdragon processor, though it doesn't specify which one. Strangely, such a processor could be slower than the One S which uses a 1.5GHz dual-core Snapdragon S4. Rumors for the HTC M7 say it will use a 1.7GHz quad-core Snapdragon S4 Pro.
Other rumored specs for the M4 include a 13MP rear-facing camera similar to the rumored camera in the M7, a 1.6MP front-facing camera, 16GB of storage, 2GB of RAM and a 1700 mAh battery. It will likely ship with Android 4.2 Jelly Bean, or at least Android 4.1 Jelly Bean.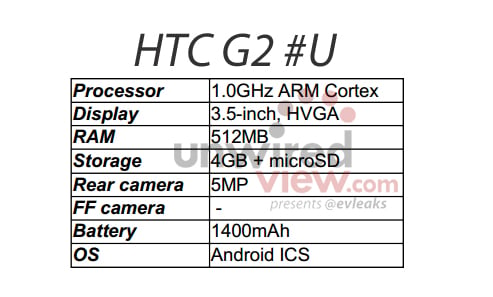 The rumored G2 is the low-end phone of the trio, which would make it the successor to the One V. The phone will use an unspecified 1GHz ARM processor, and use a 3.5-inch HVGA (480×800) display. It will have 4GB of storage with a microSD card slot, 512MB of RAM and a 5MP rear-facing camera.
While HTC will likely launch the M7 on February 19 and release it shortly thereafter, the M4 and G2 likely won't come out for a few months. The phone will likely ship by spring, but HTC may choose to not show them at Mobile World Congress.

As an Amazon Associate I earn from qualifying purchases.