HTC M8 Leak Stirs Up Fingerprint Scanner Rumors
With Mobile World Congress less than three weeks away, which is when many reports and rumors claim HTC will reveal its new smartphone to the world, as will Samsung, we're continuing to get a flood of leaks and additional reports.
Over the past few weeks the successor to last year's HTC One has leaked more than once in reports and rumors, not to mention multiple photos that are allegedly the real device. While many of those were most likely fake, today we've received one more additional image from @HTCFamily_RU showing off the best look yet at HTC's upcoming flagship smartphone.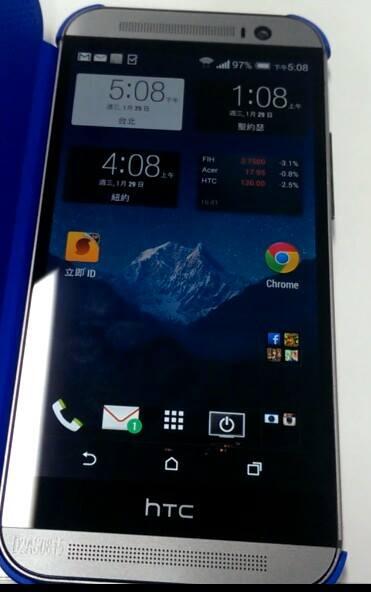 Original reports and rumors suggested HTC would take the same approach as Apple and release it new phone with a fingerprint scanner to take on TouchID for security and quick launching apps, but lately those rumors have all but died down. The last photo leak seems to confirm the smartphone will have dual cameras on the back, and no fingerprint tech on board.
However, forward to today and the newly revealed photo does have a few rumors swirling. A fingerprint scanner on the back top isn't idea, but putting one on the front middle, similar to Apple's iPhone 5S, makes much more sense. While this clearly isn't shown in the image above, multiple reports are now claiming that ridiculous black bar and HTC logo actually houses a fingerprint scanner.
Read: HTC M8 Leak Confirm a Major Change for HTC
For one the logo appears fuzzy and a different shade of black, suggesting a photo shop job hiding the fingerprint sensor, or at least blurring it out, but that can't be confirmed. A few unreliable sources have also claimed that's exactly what's in the black bezel around the screen, but we'll have to wait and see.
It's also worth noting this could be the real design based on the bigger 5 megapixel camera up front taking space away from the front facing speakers, but the off-center design may not be very appealing to consumers. The leak also confirms previous reports and leaks of on-screen keys, but it seems odd to move to on-screen keys yet waste all that space simply for an HTC logo, which is another reason we suspect it could house fingerprint sensor technology.
Lastly, this could just be one prototype of many, and we're waiting for more details. Rumors still claim a late March release date for the HTC M8 flagship smartphone, and we're expecting more and more details to arrive as February comes to a close.

This article may contain affiliate links. Click here for more details.