HTC M8 vs. HTC One: What to Expect
When the HTC One was announced and released last year it was instantly met with tons of praise and success. Now the company is looking to follow that trend with a successor next month.
HTC is in the final stages of preparation on the new device, codenamed the HTC M8, and we already know just about all the important details, features, and specs. With many iPhone and other Android devices owners switching to the impressive aluminum HTC One with its front facing speakers last year, you're all probably wondering what to expect from the successor, and if it'll be worth making the switch.
Read: HTC M8 vs Galaxy S5: Early Look at What to Expect
While we obviously don't have all the answers yet, even though most have been leaked, we can make a few predictions and point out important differences for those who may be on the fence, and waiting before they make a purchase once it is released.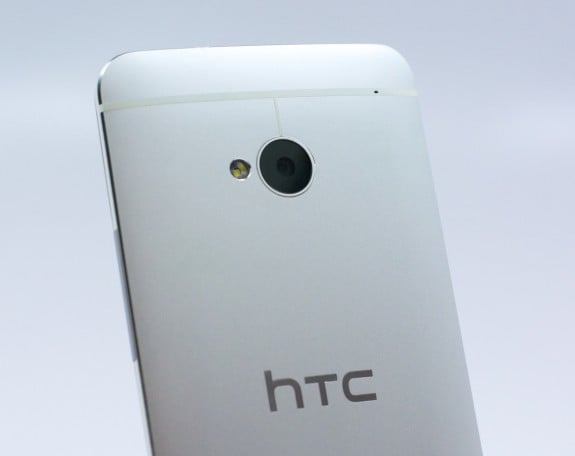 The next four or five weeks for HTC will be extremely important. For one, the Galaxy S5 is going to be announced next week, and will be the biggest competition for the Taiwanese company. Second, they're expected to announce the HTC M8 on March 25th, follow that up with a timely release on all US carriers, and eventually rollout the rumored HTC M8 Mini. There's a lot to look forward to.
Design
Leading up to today every detail and design cue has been leaked information, rumors, or alleged photos of the device. That being said, lately we've seen some strong evidence that this photo is what you can expect the new HTC M8 to look like. Courtesy of NowhereElse. HTC will be taking the award winning design of the HTC One, improving a few areas, and making it bigger.
HTC received tons of praise for the design, features, and build quality of the original HTC One, and many expect that to continue with its successor. However, lately we've been seeing some odd photos showing a more rounded device on the corners and backside, as well as a new shiny metallic finish, vs the matte aluminum from last year.
While we can be sure this is the final design, as long as it gives a better grip and ensures users won't let the phone slip from their hands, and can handle some wear and tear, it should be a great improvement. We've heard plenty of comments that dislike the latest shiny metallic leaks, but we'll have to wait for more details before we can confirm that design.
The new HTC One M8 will have a bigger display, dual cameras, on-screen buttons vs the capacitive touch keys from last year, and possibly a few other surprises like a fingerprint scanner.
Read: HTC M8 Release & Rumor Roundup
The final design was also purportedly leaked earlier today by the popular leakster @evleaks, but again, nothing is official until HTC says so come March 25th. However, it looks to be slightly longer, and possibly a bit wider.
Samsung received a lot of criticism for the Galaxy S4 being nearly identical to the Galaxy S3 in terms of the general design, shape, and look, so we're expecting HTC to make a few small visual changes to differentiate the two, while retaining the award-winning design from 2013.
Specs
The specs have all but been confirmed, although we could still see a few curve balls from HTC come late March when the device is officially revealed. That being said, all reports have swirled down to a few key changes from last year, ones which will deliver a moderately improved successor.
Each major feature will be seeing a small but noticeable increase to keep the device on track as a steady increase and improvement from previous models. Talks of a larger 5-inch 1080p display vs the 4.7-inch panel from last year. However, it won't be QHD like the Galaxy S5 is rumored to have, and instead be the same 1920 x 1080p full HD resolution as the original One.
The bigger screen will be accompanied by a faster quad-core processor, reportedly the Snapdragon 800 with 2GB of RAM, we could see 3GB included to compete with Samsung, and this time around HTC is finally delivering a feature many users have been waiting for. That being a micro-SD slot to expand storage. As a result we're hearing a lower priced 16GB HTC M8 will be released, but consumers can add additional storage via 32 or even 64GB micro-SD cards for a fraction of the price, vs something like a 64GB iPhone 5S.
The Ultrapixel camera on the rear should remain 4 megapixels, but be improved, not to mention the new dual-camera sensors on the back for improved low-light, and possibly better post-processing. Meaning users can change focus points, improve lighting, and more all after taking a photo with new software.
The last and final piece, which is arguable the most important, is battery life. What's the point of great features if you can't use them because of poor battery life. We're hearing a large 2,950 mAh battery will be included, but some reports have gone as far as a 3,300 mAh battery like the DROID MAXX. HTC has skimped on battery in the past (HTC One had a 2,300), so hopefully 2014 is the year they deliver something better. Here's what the final details should include.
5-inch 1080p HD display
2.3-2.5 GHz Snapdragon 800 quad-core processor
2 or 3GB of RAM, 16GB internal storage
Micro-SD slot for storage expansion
4 Ultrapixel camera + second camera and dual flash
5 megapixel front camera for improved selfies
Android 4.4.2 KitKat with new Sense UI 6.0
2,950 mAh battery for all-day usage
Boomsound front facing speakers
All aluminum design, possibly new glossy metallic finish
We'll be getting a bigger display, faster processor, more storage and RAM options, a better front and rear camera, longer battery life, and the latest version of Android all vs the HTC One from 2013.
Read: 5 HTC M8 Features I Want in the HTC One Successor
Software
The second set of major changes will come by the way of Android 4.4.2 KitKat, Google's latest release of Android, covered in a newly improved and polished HTC Sense UI 6.0 interface. The HTC One is currently getting Android 4.4 KitKat and Sense UI 5.5, but the new HTC M8 will have the latest and greatest from both companies.
We know the new HTC device will come with on-screen keys, as this big change has been confirmed over and over again. Another usually accurate leakster @LlabTooFer has also been sharing details on Sense 6. The dedicated buttons will be replaced with on-screen keys, and Android 4.4 KitKat's "immersive mode" will allow for apps, homescreen, pictures and more to extend down past these on-screen keys, and up through the notification bar taking advantage of the full 5-inch display.
This, accompanied by a bigger 5-inch screen is why HTC got rid of the old hardware buttons, but sadly it sounds like we'll still have a large bezel on the bottom for the HTC logo. We're hearing it could be hiding a fingerprint scanner, but that's unlikely at this point.
Read: Android 4.4 KitKat: What's New in Simple Terms
The original HTC One is currently getting KitKat, but it won't have the latest version of Sense UI 6.0 yet. One which promises a smoother experience with rounded edges and polished features or apps. New color-coded apps and integration, as well as a better Blinkfeed experience, which is HTC's news and social aggregator. Bringing the users latest news, Facebook friends, Twitter replies and more all into one easy to read place on your homescreen. Oh, and Blinkfeed can easily be disabled.
Again, we don't know everything that's new until the company announces it themselves, and we have a little over a month of waiting before it's all official.
Release Date
Early rumors suggested a late February announcement with the HTC M8 being launched inside of March, but that won't be happening. With HTC announcing the phone on March 25th in London, we can expect a mid, if not late April release date in the UK and other regions. Then, most likely a very late April release date in the US.
With Samsung pushing for an early April launch of the Galaxy S5, HTC could move to launch its device as soon as possible in April to keep things interesting, but we'll know more next week once Samsung makes the Galaxy S5 official. Latest news has them both coming in "Q2 of 2014" which is April at the earliest.
Carriers
The original HTC One eventually launched on all major US carriers, and from the beginning we've heard the same will hold true to the newest model. HTC will be launching its new flagship on AT&T and T-Mobile, then probably followed by Sprint and or Verizon. AT&T was first last year, in April, and we're hearing the same will happen this time around as well.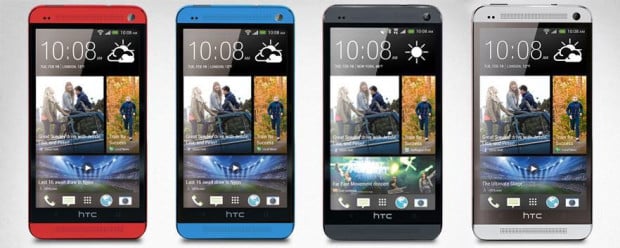 Importantly though, there's been a few reports and rumors stating HTC will offer the handset in multiple colors right out of the gate. We won't have Moto X customization, but reports suggest a silver, black (dark grey), blue and red color options will arrive at launch. However, US carriers usually look for exclusives, and AT&T could offer the red flavor again in 2014.
Price
While we wouldn't recommend anyone buy the original HTC One now, with the successor so close to launch, once it arrives we could see a slew of price cuts and discounts on the otherwise impressive device. The new HTC M8 is expected to be available for the usual $199 price with a new 2-year contract, or those opting for a payment plan on T-Mobile can expect some sort of small (under $50) down payment, followed by monthly payments. The original HTC One was $599 outright, and we'd be surprised if the M8 is any different.
Competition
HTC is facing some serious competition this year. Samsung is poised to release the Galaxy S5 ahead of the HTC One, and so far it appears to be the case based on announcement dates being a month behind Samsung. Then LG will debut the G Pro 2 for AT&T, and follow it up with a new 5.5-inch LG G3 smartphone.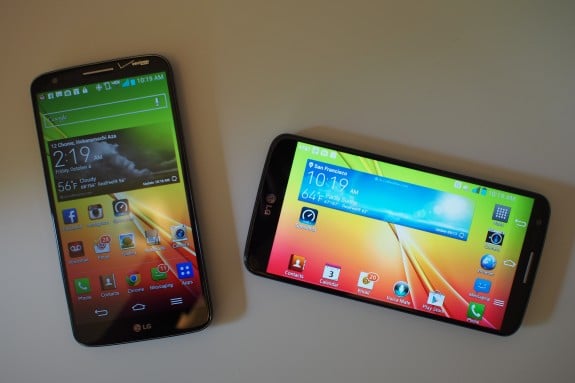 While LG hasn't been an immediate threat, they've gained steam with the LG G2 and Nexus 4/5, and could make a big impact as they take on Samsung and HTC this year. With Motorola being sold to Lenovo, their future is unknown, and surely the HTC One will get a run for its money with the fall launch of the iPhone 6.
HTC has some important weeks ahead of them, and we'll be following along to bring you the latest news, details, leaks, and official information as it arrives.

This article may contain affiliate links. Click here for more details.