HTC One (M7) Android 5.0 Lollipop Hits the U.S.
Earlier this week we received word that the original HTC One (M7) Android 5.0 Lollipop update was ready to start rolling out to users in the United States, and today it's finally here. While most of the focus has been on the newer HTC One M8 as of late, today the T-Mobile HTC One (M7) is getting Android 5.0 Lollipop.
We've seen Android 5.0 Lollipop updates arrive for the Galaxy S5, HTC One M8, LG G3 and more, and now the original HTC One (M7) from 2013 is up next. HTC themselves confirmed it's rolling out in Europe last week, and recently T-Mobile announced it's headed to the United States.
Read: 15 Best HTC One M8 Accessories
Last year HTC confirmed many of its popular and most recent Android smartphones would receive an upgrade to the latest Android 5.0 Lollipop update, and now it's finally starting to be released for multiple users. The One M8 is getting Android 5.0 in multiple regions, including Canada and the US, and now the original device is getting it stateside as of this morning. Read on for more details.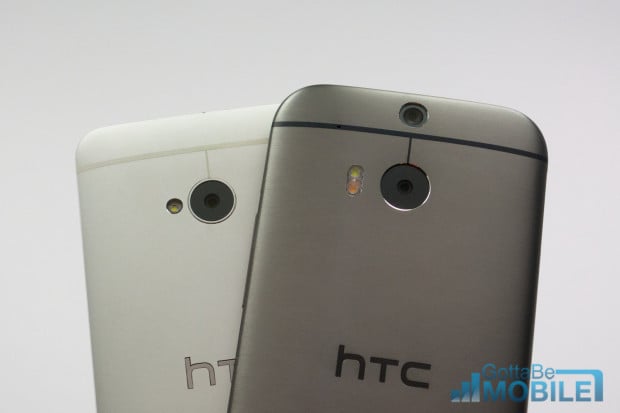 Back in January HTC admitted that they wouldn't meet their initial goal of rolling out Android 5.0 Lollipop to all HTC One owners within 90 days of the Lollipop release date, which was February 3rd. Then a few days later the Sprint HTC One (M7) Android 5.0.1 Lollipop update started, but since then all updates have been for the new HTC One M8.
However, another HTC One Android 5.0 update has started today, and it's in the United States. The T-Mobile HTC One Android 5.0 Lollipop update has received technical approval, and is rolling out over-the-air to all T-Mobile owners starting today, and will continue all week.
Read: HTC One M9 vs HTC One: 5 Key Differences
T-Mobile's social media man Des posted on Twitter over the weekend that the Android 5.0 Lollipop update was coming to their HTC One (M7), but didn't give any other details. Thankfully, yesterday HTC's own Mo Versi confirmed it should start today, and here's his quick post for those interested.
HTC One (M7) T-Mobile Owners! We've received technical approval on the L OS and OTA will start on Tuesday. #htcadvantage

— Mo Versi (@moversi) March 7, 2015
As you can see above, HTC's own VP has confirmed the T-Mobile HTC One M7 Android 5.0 update is rolling out as of today, Tuesday the 10th of March. Interestingly enough this is ahead of the HTC One M8 update for AT&T, which has a few users quite upset. That being said, we can expect the AT&T HTC One M8 update to arrive soon, and we're also expecting other carriers in the US to announce and release the original HTC One (M7) Android 5.0 update in the coming days or weeks.
Google's Material Design user interface changes have been added to HTC Sense UI 6.0, which will be on board with the Android 5.0 update once it arrives for everyone, not just T-Mobile. We've already seen plenty of this one the HTC One M8, and a new Sense UI 7 from the HTC One M9 could come to the original HTC One, at least parts of it. Users can expect plenty of changes, a better visual experience and lockscreen controls, new notification pulldown bar and much more.
Read: Android 5.0 vs Android 4.4 KitKat: What's New in Lollipop
It's worth noting that while the Android 5.0 Lollipop update is an excellent change that delivers a fresh new look, lively animations, and tons of new features, we've heard quite a few complaints over the update. Users with the HTC One M8 have been frustrated over multiple problems, but hopefully most of those don't plague the original HTC One getting the update today.
This is good news for original HTC One owners, as they've been patiently waiting for the update to arrive. However, Google just announced Android 5.1 Lollipop with tons of fixes and stability improvements to 5.0, so another update is likely already under way and should hopefully be here in the next few months. Stay tuned for more details, and look out for more US carriers to start pushing the HTC One Android 5.0 update soon.

This article may contain affiliate links. Click here for more details.