HTC One Android 5.0 Lollipop Update Begins in the U.S.
Today HTC has officially confirmed the HTC One Android 5.0 Lollipop update has started for owners in the United States. This past weekend HTC announced they wouldn't meet the 90 day deadline for delivering Lollipop updates to the HTC One and HTC One M8, and now just days later, the Sprint HTC One (M7) update is set to begin starting tomorrow.
For those keeping track, the HTC One M8 Android 5.0 Lollipop update officially kicked off in early January after a little over two months of waiting since Google first released the software back in November. HTC promised quick and timely updates for many of its smartphones, promising to deliver within 90 days, which wasn't met when February 3rd rolled around.
Read: HTC One Android 5.0 Update: What US Owners Can Expect
In early January the HTC One Android 5.0 Lollipop update actually arrived for the One M8 outside of the US, but due to some delays and likely carrier testing here stateside, the update was delayed and never made the February 3rd deadline. Those with the original HTC One M7 though, we have good news for you below.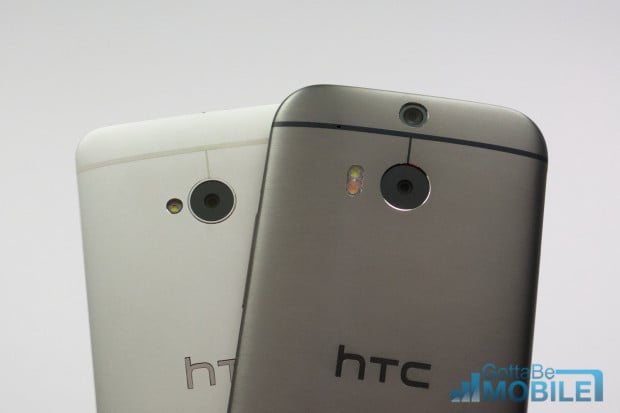 HTC has done an excellent job with updates in recent years, as well as an outstanding job at keeping users up to date on Twitter. Many of the companies team members respond to users with details regarding updates, and today Mo Versi, Senior VP of marketing has confirmed the Android 5.0.1 Lollipop update has officially started for US users. Starting with the original HTC One M7.
HTC received technical approval from what appears to be both Google and Sprint to officially update the HTC One (M7) to Android 5.0.1 Lollipop starting tomorrow. This is the first of many updates that will likely start to trickle out to owners over the course of the next few days, then for other carriers within the next few weeks.
Sprint HTC One (M7) Owners! We've received TA on L OS (5.0.1) and will start OTA tomorrow! Others coming soon! #HTCAdvantage

— Mo Versi (@moversi) February 4, 2015
Surprisingly HTC is updating the 2013 HTC One M7 first, before the newest HTC One M8 that's been available for nearly the past year, but owners likely aren't complaining. However, since they both run nearly the same version of Android and Sense UI, this means the Android 5.0 Lollipop update for the HTC One M8 is close behind.
In fact, Mo mentions in his tweet embedded above that "others are coming soon!" which is a sign that other HTC One owners (like Verizon and AT&T) can expect the Android 5.0.1 Lollipop update to arrive, and likely all carriers offering the HTC One M8 as well.
Read: Android 5.0 vs Android 4.4 KitKat: What's New in Lollipop
It's worth noting that this week HTC also kicked off the One M8 Android 5.0.1 Lollipop update in Canada, across multiple different carriers, so things are moving along very quickly. We wouldn't be surprised if more carriers announce Android 5.0.1 updates for the HTC One, and then the HTC One M8 in the next few days, or by the weekend.
Tomorrow those with an HTC One (M7) on Sprint can head into settings > about phone > and check for software updates, or just wait for the over the air update notification to arrive. Android 5.0.1 Lollipop brings lots of changes, as detailed above, so enjoy. Stay tuned for more details and carrier announcements.

As an Amazon Associate I earn from qualifying purchases.