HTC One Android 5.0 Update Coming Soon for Some
Late last month HTC confirmed many of its popular and most recent Android smartphones would receive an upgrade to the latest Android 5.0 Lollipop update, and now we've received additional details regarding a few different versions. Specifically, the Google Play Edition HTC One's.
While regular HTC One owners can still expect it within the 90 day window promised, today HTC confirmed Google Play Edition devices should see it next week. Android 5.0 Lollipop first arrived with the new Nexus 9 tablet, and we've already seen a few manufacturers push out updates to select devices.
Read: HTC One M8 Android 4.4.4 KitKat Update Begins
Google started pushing Android 5.0 Lollipop to many of its Nexus smartphones and tablets this week, signaling that the rollout had officially started and owners can start anticipating its arrival, and now those with Google Play Edition smartphones can do the same. Read on for more details.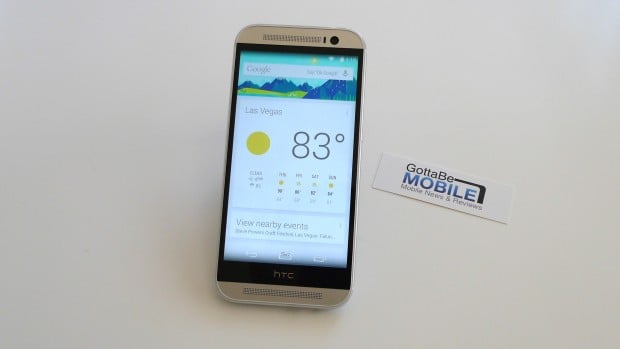 The last two years HTC's flagship One smartphone, the HTC One and One M8 have both been released on the Google Play Store running stock pure Android, known as a Google Play Edition device. The promise is stock Android free of manufacturer skins like HTC Sense, no bloatware, unlocked, and faster updates without waiting around for carriers.
Samsung kicked this trend off with the Galaxy S4 Google Play Edition, and HTC followed in their footsteps over the last two flagship releases. While we've yet to hear from Samsung, today HTC confirmed Google Play Edition devices should see Android 5.0 Lollipop hopefully sometime next week.
@amir_thedude Target is early next week. Thanks.

— Mo Versi (@moversi) November 14, 2014
There aren't too many details yet, as HTC's product manager simply replied to a question on Twitter regarding the devices. He doesn't state an actual release date, or if Android 5.0 Lollipop is coming to the new HTC One M8 first, then the original 2013 HTC One (M7) or both at the same time.
Most likely we can expect the update to either hit the newer One M8 first, or both at the same time, but we can't say for sure. There's also a bit of uncertainty here as well, as Moversi states the "target is early next week" and that isn't set in stone.
The HTC One Google Play Edition and Galaxy S4 GPe phones both saw Android 4.4 KitKat within 2-3 weeks of the release in 2013, so we're expecting something similar this year with Android 5.0 Lollipop
Read: HTC One M8 Google Play Edition Hands-on
If HTC manages to reach that target, that will make them the third manufacturer to push out an update within 2 weeks of the release date. Motorola has already begun rollouts and delivered Android 5.0 Lollipop to the Moto X Pure Edition and the new Moto G, and the LG G3 received Android 5.0 Lollipop in at least one region already, with more coming in the next few weeks.
This is good news for the Android ecosystem in general, as it appears that manufacturers and carriers are making more of an effort to release the latest updates to Android in a more timely fashion.
Most likely those with the HTC One Google Play Edition and the HTC One M8 GPe can look forward to receiving Android 5.0 Lollipop by the end of next week, and we'll update if anything changes. In the meantime check out what it has to offer by looking over our Nexus 6 Review.

As an Amazon Associate I earn from qualifying purchases.