HTC One Android 5.0 Update Pushed Back for Some
The release and update to Android 5.0 Lollipop hasn't been as smooth as many had hoped, with Google seeing delays and slowly pushing out updates to each Nexus device. To make things worse we received bad news today. Last week we confirmed the HTC One Google Play Edition devices would get Android 5.0 early this week, but it has since been delayed.
Late last month HTC confirmed many of its popular and most recent Android smartphones would receive an upgrade to the latest Android 5.0 Lollipop update, and then they specifically confirmed the original HTC One and new HTC One M8 Google Play Edition phones were up first.
Read: HTC One M8 Google Play Edition Hands-On & Impressions
Android 5.0 Lollipop for the HTC One from carriers won't be coming until later this year, reportedly within 90 days of November 3rd, but those with the stock Google Play Edition handsets can expect it soon. However, after initial reports confirmed it should rollout today, November 21st, it has been delayed.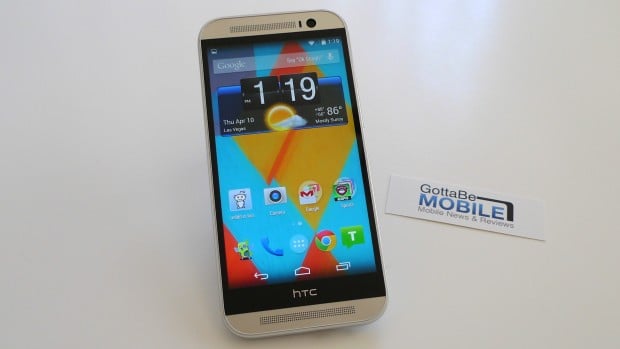 Aside from Nexus devices, last week Motorola pushed out Android 5.0 Lollipop to the Moto G and Pure Edition Moto X, and we're even hearing the new DROID Turbo and regular Moto X could see Android 5.0 updates as early as sometime next week. So things are moving rather fast, even if the release has been a bit muddy and lacking in details.
A few manufacturers are working hard on the updates, and that includes HTC. The company has been rather transparent on Twitter about the guidelines and suggested release dates, and those with the HTC One and One M8 Google Play Edition devices were expecting the update today. Sadly, this morning news arrived that it won't be coming.
@AshDeezy @htc Sorry Ash, New SW required. Will advise once approval from Google is received. Thanks.

— Mo Versi (@moversi) November 21, 2014
The Tweet above comes from Mo Versi, one of HTC's head members, who's been rather nice about keeping the public up to date regarding software upgrades and other situations.
After he announced the update was coming, then was pushed to today, last night he posted the above tweet. Confirming that there's been yet another setback regarding the HTC One and One M8 Android 5.0 Lollipop update for Google Play Edition devices, and this time there's no new ETA. In previous situations he usually shares a timeline, or suggested date, but here he simply states, " will advise once approval from Google is received."
This leads us to believe the delay is more on the Google side with Android 5.0 Lollipop, vs a delay being with the team at HTC working on the Android 5.0 Lollipop update.
Read: HTC One M8 Android 4.4.4 KitKat Update Begins
As a reminder, "Google Play Edition" smartphones are sold directly from Google through the Play Store, and run nearly pure stock Android on manufacturers flagship devices. The HTC One and One M8 had HTC Sense stripped from them, but left a few neat camera features and such, and are running stock Android 4.4.4 KitKat, and will soon be on the absolute latest Android 5.0 Lollipop. Soon being whenever Google and HTC finally get it pushed to users.
This all being said, the most important HTC One and HTC One M8 Android 5.0 updates are for carriers in the United States, and for users around the globe. While no official date has been set yet, HTC promised it will arrive within 90 days from November 3rd. Meaning that users don't have too long to wait, 2 months at most, so stay tuned and we'll update as more details begin to surface.
In the meantime those with the Google Play Edition HTC One's can look forward to Android 5.0 arriving sometime soon, but from the tweet above it doesn't look like it will be in the next week or so.

As an Amazon Associate I earn from qualifying purchases.