HTC One KitKat Update For AT&T Customers Finally Arrives
AT&T is finally rolling out Android 4.4.2 for HTC One customers. AT&T customers can download the 619.9 MB update and install KitKat today, even if you don't see any notifications on your HTC One about the update.
HTC announced that the KitKat update was certified by AT&T yesterday, but didn't provide a timeline for the rollout. We've confirmed that the update is available to HTC One owners on AT&T's network nationwide today. This comes after the HTC missed a self-imposed January deadline for releasing Android 4.4 updates for the HTC One.
The AT&T HTC One Android 4.4.2 update arrived on the first day of Mobile World Congress, a global wireless conference that will include the launch of the Samsung Galaxy S5 and perhaps the HTC One M8. The M8 will be HTC's follow up to the HTC One, which is almost a year old.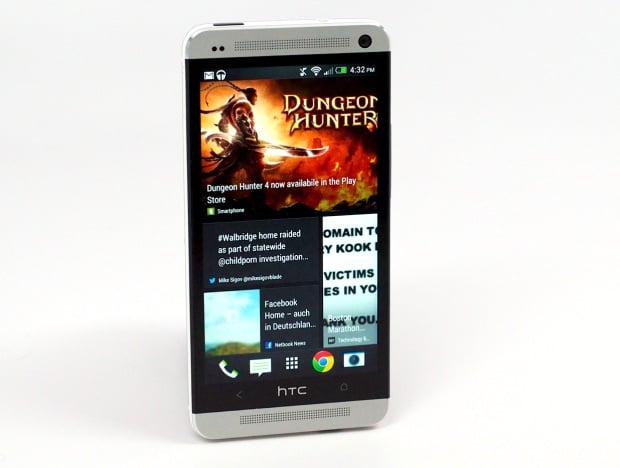 Read: HTC One Android 4.4 KitKat Roll Out Begins: What You Need to Know
HTC One Sense 5.5
The HTC One  is also getting an update to HTC Sense 5.5. Sense is HTC's name for its bundle of appearance and feature customizations that set its Android devices apart from Google's stock Android devices. This new update brings several improvements to the HTC One camera software that should allow for better photos and videos. Zoe recordings can now be turned into GIFs and shared on social networks. Users can now turn The popular Highlights feature has more themes and the users can now use their own music rather than relying on HTC's canned tunes.
Perhaps the most noticeable changes to the HTC One is Blinkfeed. There are now more ways to subscribe to and customize content. Users can now follow any RSS feed and HTC will now scan your Facebook profile to show you content that's more relevant to you. For example, if you like a certain sports team on Facebook, you'll likely see more news about that team in Blinkfeed.
How to Get the Update
If you don't see a notification on your HTC One for the Android 4.4.2 update you can still download and install it. Simply open settings and scroll all the way to the bottom of the settings screen.  Tap on "AT&T software update" and wait for the HTC One to check for the update. You should see a message that states there's a 619.9 MB update available. That's the Android 4.4.2/Kitkat and HTC Sense 5.5 update, though AT&T doesn't describe it as such. You will need to be connected to Wi-Fi in order to download and install the update. It can take quite a while to download depending on your Wi-Fi connection speeds.
While the update is designed to be effortless and maintain all of your personal data, we always recommend making sure you have backups of your personal photos and videos before updating any smartphone.
Read: HTC One (M8) vs. HTC One: What to Expect