HTC One Android Wear Smartwatch Leaks Continue
Wearable technology is all the rage as of late, and now that Google's released its own operating system powered by Android and designed for wearable devices called Android Wear, many manufacturers are busy creating devices like the smartwatch.
Last month at Google I/O Android Wear was officially debuted, and it's now readily available on both the Samsung Gear Live and the LG G Watch. Both devices went up for sale earlier this month, but now we're starting to see more and more reports, rumors, and sightings of an HTC One Wear watch coming soon.
Read: Android Wear Brings the Matrix Code to Your Wrist
Back in March when Google first announced Android Wear we heard LG, Samsung, Fossil Watch Group, and even HTC would all be partners and launch wearable products like a smartwatch, and it looks like HTC's smartwatch could be coming soon. While many buyers are still patiently waiting for the Moto 360, the HTC One Wear could be another viable option.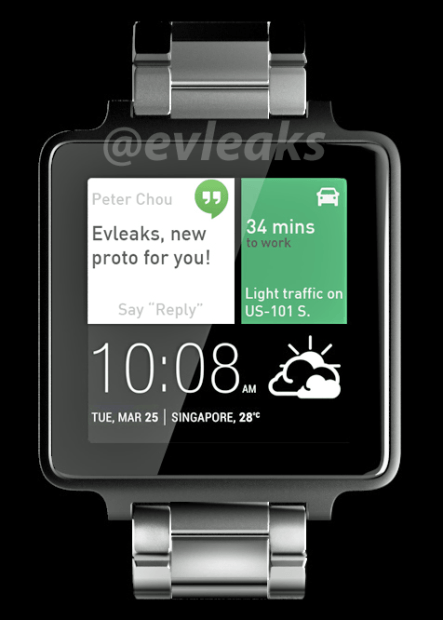 This week HTC released a brand new video showing us a behind the scenes look of where HTC designers work on a day to day basis. It's an inspiring video that will make you want to own a device like the HTC One M8, or the rumored upcoming HTC Nexus 8, but one thing we also noticed was a smartwatch.
A few sources are claiming this video gives us our first look at the upcoming Android Wear smartwatch from HTC, but it's hard to say. We know HTC is working on a smartwatch running Android Wear, and the popular @evleaks posted some renders of the device earlier this month. The device briefly seen in the video below matches the description we've heard from various leaks.
After watching the video, which is mainly about smartphones and the design ideas that go into each and every HTC smartphone, you'll notice around the 0:35 second mark we see a guy at his desk busy at work. Off to the side is a few stands for what are arguably watch stands or holders, one is missing, and the other is present. Giving us our first purported look at what is being called the HTC One Wear smartwatch.
Read: Samsung Gear Live: Hands-on with Android Wear
The device in question appears to be a square smartwatch very similar to the LG G Watch or Samsung's array of smartwatch options currently available, rather than the exciting and hotly anticipated round Moto 360. It's too early to tell what HTC has planned, but we've heard more than a few times that a new HTC One Wear smartwatch is coming sometime this fall.
With Samsung and LG both already offering Android Wear devices, and the Moto 360 poised for an August launch, most likely we'll be seeing and hearing more from HTC soon, but so far no details or announcements have been made regarding a smartwatch from the company. Android Wear is still brand new and in its infancy, but it has a lot of room to grow and evolve into a wearable technology-based operating system.
Could this be an intentional leak from HTC giving potential buyers a hint that an HTC One Wear smartwatch is coming? It's hard to say. HTC has already responded to this video denying the watch is a real product, but with various leaks confirming one is coming, we'll let you decide. Not to mention they do say to stay tuned for more details when announcement is ready. It's common for company's to deny products that leak, but we'll have to wait and see.
What we do know is an Android Wear smartwatch by HTC is seemingly in the works, and could be coming sooner rather than later. Most of the attention as of late has been on the Moto 360, but HTC has some of the best smartphones in terms of hardware and design, and a watch from the company could offer something similar to prospective buyers.

This article may contain affiliate links. Click here for more details.