HTC One Battery Case From Mophie Extends Battery Life
Today Mophie announced the new Juice Pack for HTC One, the first battery case for HTC's new flagship Android smartphone.
The new Mophie Juice Pack for HTC One adds a 2500 mAh battery to the HTC One while protecting the aluminum back of the device. The external battery essentially doubles the battery life of the HTC One without completely sacrificing the "zero-gap unibody design" of the phone.
The battery case does add some bulk to the HTC One, increasing the thickness of the phone from 9.3mm to 0.67-inches (17.018mm) which might make a difference to some users. The Mophie battery case also adds about 1.5cm to the bottom of the phone for the micro USB port.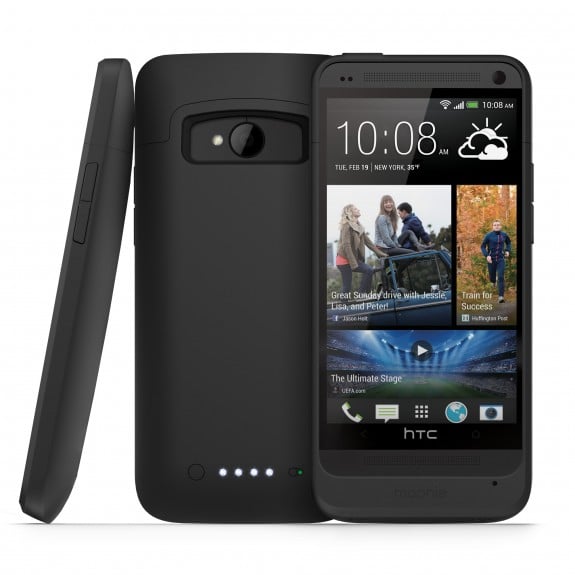 Mophie's new case does cover the volume and power buttons of the HTC One, but it doesn't take away any features. Users can still use the HTC One as a universal remote thanks to the pass-through design of the new case.
Because of the design of the HTC One, Mophie didn't have to leave holes for the speaker and microphone like it does on its iPhone 5 cases. There are two small holes for the noise canceling microphones of the HTC One, however.
Like iPhone 5 users, HTC One users may want to invest in a battery case because while their phone is beautiful to look at and comfortable to hold, the battery doesn't always last that long.
Users can't easily replace the battery in the HTC One, so their options are to carry around an AC adapter and search for outlets, carry ad external battery with a USB cable or put a battery case on the phone. The battery case is the easiest option of the three.
The Mophie Juice Pack for HTC One is available now for $99.95. The case comes in black and silver to match the two colors of the device, but only black is available for now. The silver case will come out in mid-May.