8 Ways the HTC One Beats the iPhone 5s
The new HTC One (M8) has several features that will make iPhone 5s users green with envy. While I love my iPhone 5s for several reasons, I wish Apple would borrow some ideas from HTC for its upcoming iPhone 6.  Some of the differences are due to the HTC one simply being a Google – powered android phone, but many others are thanks to HTC's smart design decisions.
The iPhone 5s is nearly identical to the iPhone 5, which launched way back in September 2012. Fast forward 18 months and the iPhone 5s is starting to show its age while the competition is heating up. Here is a list of eight ways the new HTC One beats the iPhone 5s. Are they reason enough for you to make the switch from iOS to Android?
HTC One's Big Screen
The HTC One features a 5″ display that delivers full 1080p resolution (1920 x1080 pixels). The HTC One's display is an inch bigger than the iPhone 5s and is simply better suited for everything from reading news to watching movies.
It's not that the iPhone 5s's display is bad, it's just that it's stuck somewhere between 2010 and 2012. Apple introduced the Retina Display back in 2010 with the iPhone 4, kept it the same in 2011 with the iPhone 4s and stretched it out a bit in 2012 with the iPhone 5. Nothing changed for the iPhone 5s display in 2013 and now we're stuck in in 2014 with an iPhone 5s with a display that's too small for getting the most out of our 4G LTE networks and more powerful apps.
HTC One microSD Card 
The iPhone 5S comes with just 16 GB of storage space for $199.   An extra hundred dollars will bump that up to 32 GB and an extra $200 gets you a 64GB GB iPhone 5s. But what if an iPhone user needs more than 64GB? Unfortunately they're out of luck since the iPhone 5s doesn't have a memory slot.
The HTC One M8 comes with 32GB of internal storage plus a memory slot that accommodates microSD cards ranging up to 128 GB.  That means HTC One M8 users can haul around up to 150GB of data, more than double the capacity of the most expensive iPhone 5S and nearly 10 times the capacity of the comparably priced 16GB iPhone 5s. Yes, HTC One M8 users will have to pay for the microSD card of their choice, but I'd much rather pay $39 for a 64GB microSD card when the time comes than running out of storage space. The HTC One M8 camera app can automatically store photos on the microSD card. Android 4.4.2 limits access to copying files to and from an SD card in some apps, but the ability to add storage is still a plus.
Apple really needs to up the next iPhone's storage capacities to help manage all the HD content available in the App Store and the larger photo and video files the iPhone produces. Apple hasn't moved the storage needle since it introduced the 16 GB iPhone 3GS four years ago. In fact, Apple's reverting to smaller storage options by offering a 8GB iPhone 5c in some countries.
 HTC One Camera App and Highlights
The HTC One's camera isn't as good as the iPhone 5s's camera when it comes to pure picture quality, but the HTC One's camera app offers a lot of flexibility and extras.
One of my favorite things about the HTC One M8  is its Zoe camera mode. Tapping on the shutter button records continuous still photos and video simultaneously. This might not sound like too big of a deal, but it's a godsend when trying to capture my active toddler and his friend's antics. The resulting photos and videos are automatically remixed into multimedia videos thanks to the phone's Highlights feature. I've spent way too many hours of my life editing and sharing photos using various editing  and sharing tools. None of them are as easy and satisfying as uploading a Highlight to Facebook, tagging a few friends and calling it a day.
Another feature that the HTC One has that the iPhone 5s does not is Duo Camera. With a couple of taps the HTC One can focus on a subject and blur out distracting backgrounds with the Ufocus effect. The back of the HTC One has an extra camera sensor that collects extra information. This allows users to refocus on different subjects. This creates a bokeh effect that mimics a look usually reserved for big expensive cameras.   Take a look at the example photo below before and after applying the Ufocus effect.
Everything is in focus in the original photo (above) of this fountain in San Francisco. The tourists in the background and the storefront are distracting.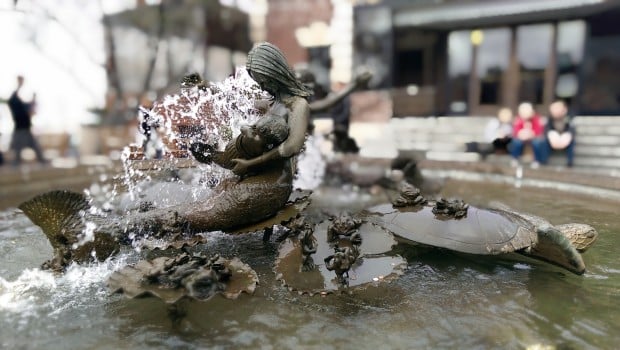 With the Ufocus effect enabled the shot is tightly focused on the bronze mermaid and animals. Everything in the background is blurred to a point where you can't see any details.
Better Google Integration
Google services and apps generally run better and are more refined on Android devices than the iPhone. That shouldn't come as a surprise since user's Google accounts are the core of the Android experience.
While Google does offer plenty of apps for the iPhone, many of Google's best apps aren't truly integrated into the iPhone. For example, holding down the iPhone's home screen launches Siri, Apple's voice assistant, even if the iPhone is locked. If you want to use Google's voice search you have to unlock the iPhone using your PIN or fingerprint, launch the Google app, then speak. That means it's usually easier to just use Siri than relying on Google Now when I'm using my iPhone 5s.
The HTC One offers nearly instant access to the Google App by simply tapping on the Google Search widget on the home screen or tapping on the home icon and swiping up from within any app. Instant access to Google voice search and Google Now makes life on Android just a little easier.
As a Google Glass user, the MyGlass app is important to me. Unfortunately, the iOS version isn't fully integrated with Google Glass and that means I can't send or receive messages on it like I can when I'm using an Android device.
HTC One has Better Speakers
The HTC One M8 has a pair of BoomSound speakers facing forward. They're loud and produce stereo sound that's far superior to the mono sound piped out of the iPhone 5s's single speaker. It's easier to hear movie dialogue on the HTC One than the iPhone 5s. Games and movies have more depth to them on the HTC One than the iPhone 5s because sound is actually split into left and right channels, just like when listening through headphones.
I can't emphasize enough how much sense it makes to have the speakers facing forward. I don't have to worry about covering up the HTC One's speakers with my palms as I hold the device like I do when using the iPhone 5s to watch videos.
HTC One: Google Wallet and NFC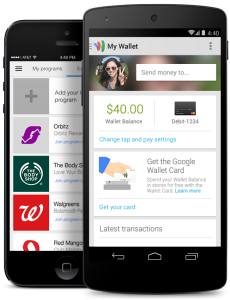 The HTC One supports both Google Wallet and the Isis Mobile payment solution. This means users can pay with their phones rather than credit cards at many retailers by simply tapping the HTC One when checking out. That might sound trivial to some, but it's always nice to have alternative ways to pay.
Apple does offer Passbook, but it requires retailers to have a Passbook-enabled app and scan barcodes using a laser. Starbucks is where you're most likely to see Passbook payments in action. While that's a good start, Passbook simply doesn't have the same reach as Google Wallet and Isis. Apple isn't expected to support NFC any time soon. Google does offer an extremely crippled Wallet app for iPhones, but it really doesn't do much of note. 
HTC One is More Affordable
The HTC One is already available from Verizon Wireless for just $199 with a contract. That's $100 less than the 32GB iPhone 5s, but that's just the beginning. Verizon's already offering a free HTC One with the purchase of an HTC One, effectively hopping the price down to $100 each. If HTC and its partners are offering these kinds of deals right off the bat, imagine what we'll see in a few months. Verizon has a bit of a head start selling the HTC One and we expect it to get more aggressive with its HTC One pricing once the competition starts selling the device on April 10.
HTC One Wakes Up Happy
The HTC one has a few gesture controls that make it easier to get to where you need to go from a black screen. A swipe up brings you back to the last app or action you were in so you continue where you left off.  Swiping right on the display launches Blinkfeed so you can quickly read an article or two when you have a couple of minutes to spare. Swiping left on the display when it's turned off will bring up the first page of widgets and apps after Blinkfeed. Holding the phone when off in landscape mode and holding down the volume-down button launches the camera app.
The iPhone 5s goes to the last screen used when it wakes up. Alternatively you can launch Siri by holding down the iPhone's home button when it's asleep. Users can get into the iPhone's camera app by waking the device and swiping up on the camera icon in the lock screen, but it isn't as convenient as HTC's method of simply holding down the volume button.