HTC One Crashes Samsung's Times Square Announcement (Video)
Last week Samsung livestreamed its Galaxy S4 announcement in Times Square, and HTC decided that was the best time to bring the HTC One on the street to show it off.
Before the Samsung event at Radio City Music Hall, HTC showed up to show off the HTC One to members of the press and the public waiting in line to see Samsung's new phone. After the event started HTC brought its flagship phone to Times Square, right behind Samsung's Galaxy S4 demo area.
The HTC street team started by showing off the HTC One's aluminum body and 4.7-inch 1080p display. The body of the phone feels like one slab of aluminum, despite the lines on the back for the antenna. The people in Times Square seemed to like that.
The phone's 1080p display has the highest pixel density of any smartphone, with 468 pixels per inch. At such density it's hard to show the different between the One and the Galaxy S4's 1080p 4.99-inch display, but Samsung's phone has slightly fewer pixels per inch.
HTC also showed off the BoomSound feature of the One, which uses dual speakers for better sound than other smartphones. Because the two speakers flank the display of the HTC One and face the user, the phone can produce true stereo sound without the need for headphones.
The phone also has Beats audio for added bass both on the front-facing speakers and the headphone jack.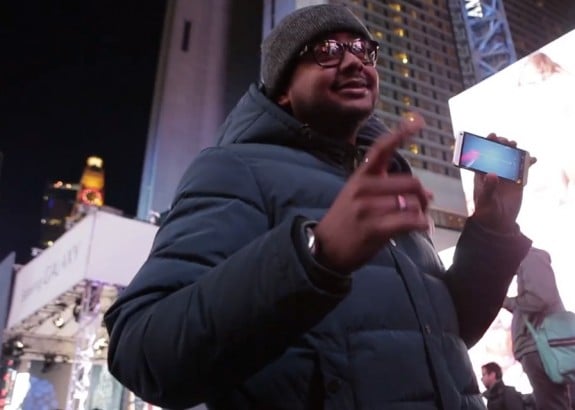 Finally, HTC showed off its new Ultrapixel camera, which it designed for low-light settings. By using a sensor with fewer megapixels the camera can pick up more light, which can really shine in Time Square with lights on every building. Some reviews say the camera isn't that great in other scenarios but the people HTC talked to seemed impressed.
HTC originally scheduled the HTC One for release on AT&T, Sprint and T-Mobile this month, but was recently delayed due to supply issues. Now it's not clear when HTC will release its new flagship phone.
In April the phone will run up against Samsung's Galaxy S4, the same phone it tried attracting attention away from with the street team in this video.

As an Amazon Associate I earn from qualifying purchases.