At an event in New York City today HTC unveiled the new HTC One, an Android smartphones that may stand out of the crowded Android phone market.
While there are some visual and design similarities between HTC One and the iPhone 5, the One is larger than the iPhone 5 and the curved back makes it feel a bit more comfortable in the hand. HTC claims that the One has virtually no gaps in its construction, and the phone uses all metal construction. The result is a smooth finish that's the same texture throughout most of the phone.
The phone's screen is a 4.7-inch 1080p display that looks fantastic in person. With 468 pixels per inch the pixels are impossible to spot on the display. Images and text are both very sharp. Colors appear accurate and not washed out or blown out on the display. After just a few minutes with the phone, the display looks at least as great, if not better, than the display on the iPhone 5.
HTC One Hands On Video
The HTC One boots into HTC's new LiveFeed mode by default, which aggregates news and photos from a variety of sources. The feature is nice, and is somewhat similar to apps like Flipboard. The mode seems useful, but users can still access to default Android homescreen by swiping to the left.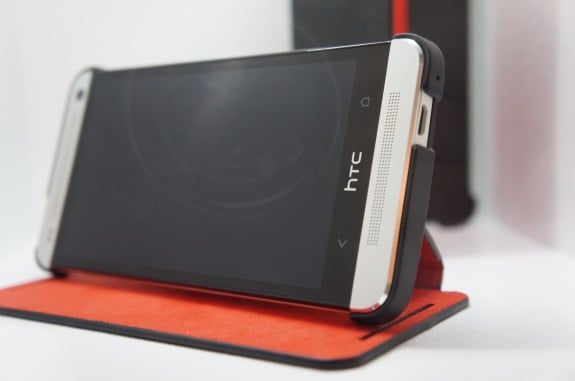 On the top and bottom of the display are the two front-facing speakers with HTC's BoomSound feature. The speakers are loud and easy to hear in the launch event's loud room.
HTC's claims the new Ultrapixel camera in the HTC One can take better lowlight images than other smartphone cameras. Pictures taken on the device look good, but still showed a bit of noise in the challenging, poorly lit room of the launch event.
The camera app is similar to the camera app in the HTC One X, but with the new HTC Zoe feature. Zoe takes photos and short clips of video with the touch of a button. In Zoe mode it's impossible to take photos in quick succesion, but users can take still images from the short video after.
Overall, the HTC One seems like a great followup to the HTC One X, with a clearer screen, more comfortable feel in the hand, and improved camera. It stands out as one of the most unique flagship Android phones in a long time.

As an Amazon Associate I earn from qualifying purchases.