HTC One (M7) Android 5.0 Lollipop Update Hits the U.S.
Lately all the attention has been on the HTC One M9 and last years HTC One M8 getting Android 5.0 Lollipop updates, but this week we received good news regarding the original HTC One (M7) Android 5.0 Lollipop update. It's finally ready for the United States, and should start rolling out soon on T-Mobile.
We've seen Android 5.0 Lollipop updates arrive for the Galaxy S5, HTC One M8, LG G3 and more, and now the original HTC One (M7) from 2013 is up next. HTC themselves confirmed it's rolling out in Europe last week, and yesterday T-Mobile announced it's headed to the United States.
Read: 15 Best HTC One M8 Accessories
Back in November HTC confirmed many of its popular and most recent Android smartphones would receive an upgrade to the latest Android 5.0 Lollipop update, and now it's finally starting to be released for multiple users. The One M8 is getting Android 5.0 in multiple regions, including Canada and the US, and now the original device is expected to get it shortly.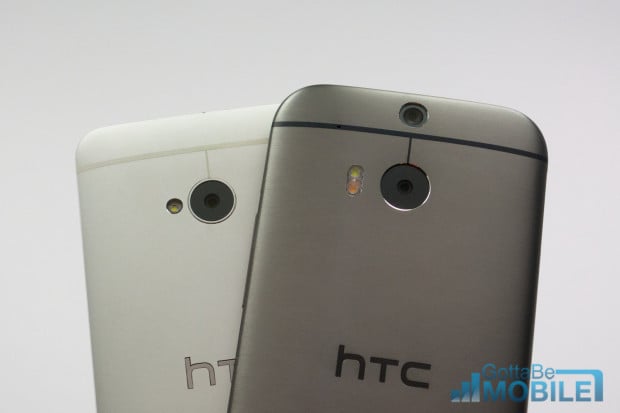 Back in January HTC admitted that they wouldn't meet their initial goal of rolling out Android 5.0 Lollipop to all HTC One owners within 90 days of the Lollipop release date, which was February 3rd. Then a few days later the Sprint HTC One (M7) Android 5.0.1 Lollipop update started, but since then all updates have been for the new HTC One M8.
That promise was for both the new HTC One M8 from 2014, as well as the original HTC One (M7) but neither received the update in the United States within 90 days, but it looks like the wait is almost over for those still enjoying the original HTC One (M7) from 2013.
Read: HTC One M9 vs HTC One: 5 Key Differences
Earlier this week HTC revealed the all new HTC One M9, and Samsung introduced the new Galaxy S6. Both devices have been taking over the news as of late, but T-Mobile quietly confirmed the HTC One M7 Android 5.0 update is coming soon. Sadly the tweet is a bit confusing, and doesn't give an exact date, but from the sounds of it the update is ready and should be rolling out now. However, looking at the T-Mobile support page shows an old update, and Lollipop is not yet listed.
More AWESOME News for @HTCUSA fans! your #HTCOneM7 is getting Lollipop as well! check our @TMobile Software Update Site for the latest info!

— Des (@askdes) March 4, 2015
HTC and all US carriers have already confirmed Android 5.0 Lollipop is headed to the original HTC One (M7) from 2013, so the tweet above from one of T-Mobile's main voices on Twitter isn't confirming the device will get Android 5.0, but rather confirming it's coming soon. He doesn't state it's available now, so there's a little confusion as to when it will actually arrive, but the fact he states to check the software update page means it should be ready and coming soon, if not rolling out already.
Google's Material Design user interface guidelines have been elegantly blended into HTC Sense UI 6.0, which will be on board with the Android 5.0 update once it arrives for everyone, not just T-Mobile. We've already seen plenty of this one the HTC One M8, and a new Sense UI 7 from the HTC One M9 could come to the original HTC One, at least parts of it. Users can expect plenty of changes, a better visual experience and lockscreen controls, new notification pulldown bar and much more.
Read: Android 5.0 vs Android 4.4 KitKat: What's New in Lollipop
For now this is all we have to go on. HTC is currently busy preparing to release a new HTC One M9, are pushing Android 5.0 Lollipop to the One M8 and One M7 around the globe. Until we hear more details from HTC themselves, or T-Mobile, we're not exactly sure if the One (M7) is getting Lollipop today, or if it's simply coming soon.
If you've received Android 5.0 for your HTC One M7 drop us a comment below, and we'll update once we hear it's officially hitting users smartphones.