HTC One M8 and One M9 Android 6.0 Update Breakdown
On October 5th Google officially released the next version of Android that will replace 5.1.1 Lollipop on most smartphones and tablets. That being Android 6.0 Marshmallow. A few months ago we shared a few details regarding the HTC One M8 and HTC One M9 Android 6.0 update, and now we have some good new for owners of both smartphones.
HTC is one of the best companies in terms of being open and transparent with the update process for its devices, and that's been especially true with Android 6.0 Marshmallow. In October they confirmed both the One M8 and One M9 would see Android 6.0 Marshmallow starting in December, and below is the latest news regarding the update for unlocked and carriers models alike.
Read: HTC One M9 Android 6.0 Marshmallow Update Nears
The Google Play Edition HTC One M8 already received Android 6.0 Marshmallow, but that's the only device the company has updated to Google's latest software. However, by the end of the week the unlocked HTC One M8 should see updates arrive, followed by the One M9, carrier models and more. This is our HTC Android 6.0 Marshmallow update breakdown.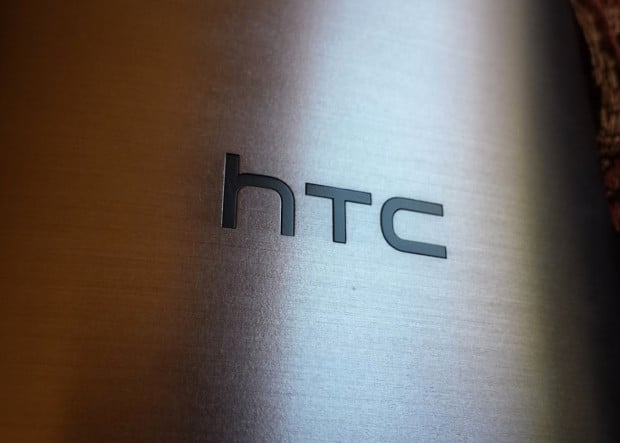 Over the past two months HTC has been working extremely hard to blend all of the changes and improvements from Android 5.1.1 and its own HTC Sense software interface into Marshmallow, and prepare updates for all of their customers. Unlocked models see updates first, and carrier models like the Verizon or AT&T HTC One M9 usually are last. That's because carriers have a strict testing phase that all updates must go through, meet, and be approved before being released.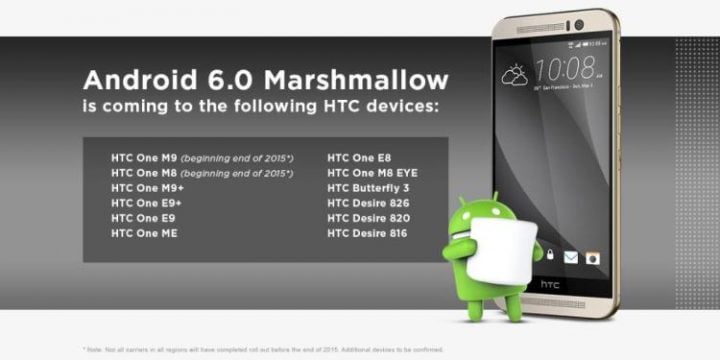 Carrier testing phases typically take 4-6 weeks, but could be getting faster and more streamlined. And that may be more true than ever with the HTC One M9, as the company is still promising the Verizon HTC One M9 will get updated to Android 6.0 Marshmallow in December. However, that's the only carrier getting the update in 2015.
According to Mo Versi, Senior VP at HTC, a lot of updates will be rolling out over the next 30-45 days, with some starting as early as this week.
HTC One M8
Today HTC's Mo Versi confirmed on Twitter that the unlocked and international model of the HTC One M8 from 2014 is ready to be updated to Android 6.0 Marshmallow. The software update has been completed by HTC, and approved by Google. This means the update should start rolling out to all owners starting tomorrow afternoon.
HTC One (M8) unlocked owners! Great news, all testing has been complete and the update for Marshmallow will be sent out within 24 hours. Thx

— Mo Versi (@moversi) December 2, 2015
As you see above, the One M8 unlocked model will get Android 6.0 Marshmallow starting tomorrow. He confirmed this all on Twitter, and has been answering questions for users all week long. Multiple comments seem to suggest the US version of the HTC One M8 from carriers like AT&T, T-Mobile, Verizon and more are getting it soon too, but that won't be until early January, but no exact date was given.
That being said, at least HTC is making announcements. We've heard nothing from others like Samsung or LG regarding their latest smartphones, and have nothing but rumors and leaked software to go by. This is all coming right from HTC, which is good news.
Those with an HTC One M8 from a carrier in the United States can expect the update to Android 6.0 Marshmallow in early January from all carriers. Mo suggested the Sprint HTC One M8 target date is January 4th, and the 5th for T-Mobile, but we'll update as soon as we have actual release dates.
HTC One M9
The HTC One M9 released earlier this year seems to be slightly behind the original One M8 from 2014, and no announcements have been made aside from one comment about the Verizon HTC One M9.
@greatbudha We are still tracking by the end of year for M OS update on M9 w/Verizon. Thanks.

— Mo Versi (@moversi) December 1, 2015
Above Mo confirmed that the update to Android 6.0 Marshmallow for the Verizon HTC One M9 is still on track to arrive before the end of the year, but that's the only carrier specific model that was mentioned.
However, the other carriers will quickly release it as well. Multiple replies from Mo Versi to users suggests that the first 4-8 days of January will be full of updates for the HTC One M9 on T-Mobile, AT&T, and Sprint. Verizon is the only one with a December release date.
When asked about the Sprint HTC One M9 there was no date given, but the HTC One M8 on Sprint is slated for January 4th. Both phone run nearly the same software, so we can expect updates to rollout in a similar time-frame for both phones on all carriers.
What this means is that almost all HTC One M8 and HTC One M9 owners should get an update to the brand new Android 6.0 Marshmallow software release in the next 30-45 days. That being said, there is a chance that one or more carriers find issues, and small delays are possible. At the same time, the M8 update has already been approved, and carriers will likely approve all updates and push them out in the near future as well.
What's New
Sadly we don't have a changelog yet regarding what's new, but the HTC One M8 will be updated to the new HTC Sense UI 7 that debuted on the One M9 back in March. That means improvements to the camera, user interface, dialer or phone app, HTC Blinkfeed and much more.
The biggest thing though, is all these phones will be updated to Android 6.0 Marshmallow, which is a huge update. Owners can expect Google Now on Tap by long-pressing the home button, improved battery life with what Google is calling "Doze" that should give nearly 30% better battery life in some cases. Better security with monthly security patches. Better volume controls, improved performance, new permission controls for even tighter security and more. Those are just a few. The link below has far more details regarding what's new.
Read: Android 6.0 vs Android 5.1.1 Lollipop: What's New in Marshmallow
Most likely HTC will have a lot of small changes to its own Sense UI 7.0 software interface that covers stock Android 6.0 Marshmallow, but this will still be a major visual update, as well as even more changes under the hood.
Until the updates actually start arriving and actual changelogs with what's new arrive, our guess is as good as yours. That said, Android 6.0 Marshmallow brings a lot to the table for all Android users, and the HTC One M8 and One M9 will be among the first in the United States to receive the update. Stay tuned for more details.

As an Amazon Associate I earn from qualifying purchases.